Founded in 1948 on a single product, a no-smear lipstick, the Hazel Bishop Company had a meteoric rise in the United States in the 1950s due to extensive advertising on network television. However, its heyday did not long outlast the involvement of its founder, Hazel Bishop.
Hazel Gladys Bishop
After graduating in 1929 from Barnard College (Columbia University, N.Y.) with a degree in chemistry, Hazel Bishop hoped to go into medicine. The stock market crash of 1929 put paid to her plans to become a doctor and she opted instead to do postgraduate work in Columbia's College of Physicians & Surgeons. In 1935, she took a position as a research assistant to Dr. A. B. Cannon, Director of Dermatology at the Columbia Medical Center. Then she worked as an organic chemist for the Standard Oil Development Company (1942-1945) and for the Socony-Vacuum Oil Company (1945-1950).
During her time with A. B. Cannon in the 1930s, Hazel gained some experience with the business side of cosmetics – Cannon being one of the founders of Almay, a hypoallergenic cosmetics brand founded in 1931. In the 1940s Hazel got interested in lipsticks. Bright red lipsticks had been popular during the Second World War but she found them less than satisfactory and began work on producing a "nondrying, nonirritating, long-wearing" form. After conducting over 300 different experiments she eventually developed one that she thought was suitable.
In 1948, through her mother, Hazel Bishop met the lawyer Alfred Berg who was planning to bring back the French lipstick Rouge Baiser to the United States. Hazel thought she had a better product and Berg agreed to provide venture capital to bring it to market; together they founded the Hazel Bishop Corporation in 1948.
Lasting Lipstick
Hazel Bishop's Lasting Lipstick used bromo acid dyes to get the lipstick to last. These had been around since the 1920s and by 1950 there were about a dozen different types in use (deNavarre, 1975). The main drawback with using these stains was that they caused lip 'dryness', a problem that worsened as the amount used increased. Hazel offset some of the dryness with lanolin but she did not solve the problem completely. In fact no one did, which was one of the reasons why the use of 'long lasting' or 'deep staining' lipsticks was in decline by the end of the decade.
See also: Indelible Lipsticks
The lipstick also required a degree of effort on the part of the user to achieve the long lasting result. Women were expected to wait for the lipstick to set and then blot off the excess in order for it to be 'kissproof'.
As well as using bromo acids, Hazel was also concerned with the adherence of the pigments in her lipstick. As she noted in a 1953 letter to Maison G. deNavarre, she considered these an important part of the formulation.
The longer lasting properties that are obtained only in part through greater staining of the lips. They are also obtained in part by the pigments being embedded in a basic composition which adheres more tenaciously to the lips than was true in the old conventional formulas. Thus the smear-proof lipstick derives its color from pigment plus stain, rather than from stain alone. This is important because, without pigment, the lip application has a "thin water-colored" look which, in my opinion, is neither satisfactory or desirable to the American women.
Removing the stain was another problem, as even if soap and water or cold cream was used to remove the lipstick at night, the lips would still be coloured the next morning. The company attempted to turn this problem into an asset by suggesting that you would 'Wake up Beautiful', a idea also used by other makers of long wearing lipsticks such as Coty and Revlon.
Hazel Bishop Long Lasting Lipstick originally came in six colours: Pink, Red Orange, Real Real Red, Medium Red, Secret Red and Dark Red with other shades, such as Light Pink and Light Red, added later. Hazel chose descriptive rather than fantasy names for her lipstick shades as she believed that "women want color information when they buy a lipstick, not a prose poem" (Daytona Beach Morning Journal, 1951). This idea was not without precedent – Tangee, for example, marketed lipsticks named Red Red in 1941 and Medium Red in 1949 – but Hazel applied it consistently over the whole range.
Commercially manufactured by Kolmar Laboratories, the lipstick was successfully trialled in 1949 during a fashion show at Hazel's alma mater (Barnard College) and then went on sale in 1950. Newspaper space was purchased and used to advertise the lipstick that will not "eat off, bite off or kiss off", a tag-line that was similar to the "you can't drink off, smoke off or swim off" line used by Vivaudou to promote their green indelible lipstick, Viva-Caprice, in 1940.
The introduction of Hazel Bishop Long Lasting Lipstick proved to be very successful; Lord & Taylor (New York) sold out of the line in one day. Sales approached $50,000 in 1950 but the company was operating at a small loss so the partners turned to Raymond Spector and his New York advertising agency to help with a national expansion.
Raymond Spector
In return for Hazel Bishop stock, Spector agreed to help market Lasting Lipstick. Spector advertised the lipstick aggressively and followed a newspaper campaign with extensive advertising on radio and television.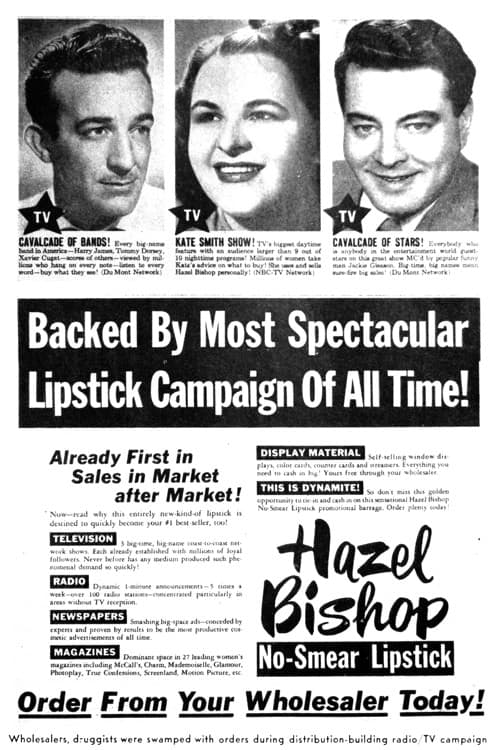 Starting in 1950 with 100 spot radio announcements in 57 markets, then to spot television announcements on three television shows: Kate Smith Show (NBC), Cavalcade of Bands (Du Mont) and Cavalcade of Stars (Du Mont) the company sponsored a range of radio and television programs including 'Inside News Of Hollywood', 'I Confess', 'Candid Camera', 'This Is Your Life' and 'The Martha Raye Show'. According to Spector this was to ensure maximum penetration.
Since its TV debut, the lipstick company has picked up—and dropped—seven different shows. But until recently, the reason has always been the same, according to Raymond Spector, president of the firm's agency.
"After six months of using a show," Mr. Spector explained, "we've skimmed the audience. Lipstick is used by all women. Our policy is to shift every six months, so that we hit different groups. That's why we dropped Stop the Music to pick up NBC-TV's Cameo Theatre.
Spector's move into television was initially very successful. By 1953, Hazel Bishop sales had reached $10 million dollars (U.S.). Lasting Lipstick – also referred to as No-Smear Lipstick until the Federal Trade Authority (FTA) curtailed the unrestricted use of the term in 1953 – had captured 25% of the lipstick market and the company had a pre-tax profit of nearly $2 million.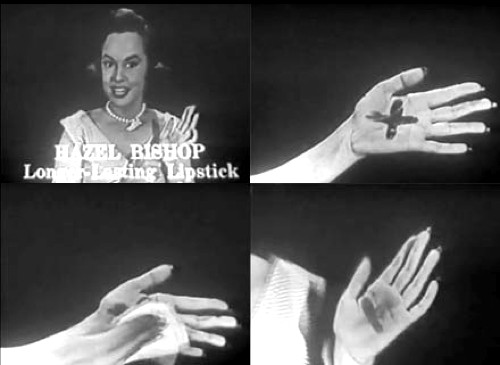 Other products were also doing well. Complexion Glow, a liquid-creme rouge, introduced in 1952, and Long-Lasting Nail Polish, introduced in 1953, also sold well.
No-Smear Lipstick: "wont eat-off, bite-off or kiss-off". Shades: Pink, Red Orange, Real Real Red, Medium Red, Secret Red and Dark Red with other shades such as Soft Pink, Pastel Pink, Deep Pink, Coral, Light Red and Rose Red added by 1955.
Complexion Glow liquid-creme rouge: "does away with pasty, pale look … gives your cheeks a natural looking glow". Shades: Pink Glow (light), Coral Glow (medium) and Rose Glow (dark).
Long-Lasting Nail Polish: "lasts longer than you ever dreamed possible". Shades: Dusty Pink, Pastel Pink, Deep Pink, Coral, Real Real Red, Medium Red, Rose Red, Dark Red, Natural, Iridescent Pearl and Iridescent Pink.
However, to achieve these results Spector was spending over one-third of the company's gross income on advertising, most of which was in television, and by 1953 Hazel Bishop was the largest television cosmetics advertiser in the United States and in 1954 spent over $2.3 million on television advertising (Television Magazine, 1954).
Spector's marketing strategy was focused on sales rather than margins. As well as extending the product line, he distributed Hazel Bishop products through big syndicated low-cost stores like Woolworth's which had previously only stocked cheaper 35 cent brands, rather than concentrating on department stores (Drachman, 2002).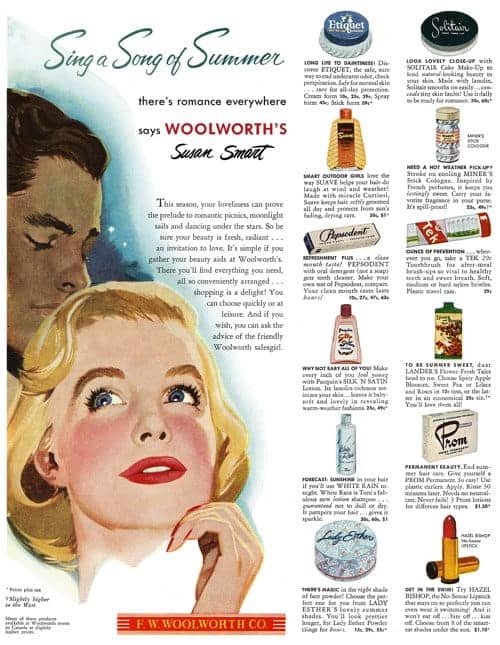 Spector of course was making a good deal of money from the operations of the Hazel Bishop company. In 1953, he received $37,000 as chairman of the board of the Hazel Bishop Corporation and collected revenues from his agency, which made over $600,000 from Hazel Bishop in that year. The more the company spent on advertising the more his agency earned – a clear conflict of interest. This situation was well known in the wider cosmetics industry both in the United States and abroad.
The Hazel Bishop success story is also a case of entering a highly saturated market – lipsticks. Using an imaginative television programme, spending large sums on television, and proclaiming that its lipstick was indelible (later the government authorities rule that this and similar sticks were to be called 'indelible type', a distinction made long after the first flush of success and one that is probably having little effect on the consumer), this firm had a meteoric rise. Leaving in its trail some of the best known names on the American cosmetic scene, the Hazel Bishop lipstick captured a share of the market that few considered possible for a new company. But at what cost? At the cost of an advertising appropriation far, far greater than another firm would consider economical for its return. Yet, because of a partial interlocking ownership between this company and the agency handling the advertising, a great part of the profits 'lost' to the company were picked up by that agency.
Separation
Hazel's difficulties with Raymond Spector began soon after he joined the company and, after resigning as President of Hazel Bishop in 1951, she took out a lawsuit against the Hazel Bishop Corporation, the Raymond Spector Company and others, charging them with mismanagement and the diversion of assets. Spector turned to his attorneys – Gordon, Brady, Caffrey and Keller – for help and to his former attorney Milton E. Mermelstein. Some of these lawyers took shares in the company and served in official capacities.
With the help of his lawyers, Spector tied up the intellectual property of the company. In an agreement backdated to 1950, Hazel was hired to provide consultancy and promotional services for a period of two years. For this she received $12,000 per year and a percentage of the product sales, not to exceed $20,000. As part of this agreement, she agreed to allow her name to be used in perpetuity by the corporation and to refrain from endorsing the retail sale of any other product for a period of 25 years. This appears to have been the more important part of the agreement, as she had very little to do with the creation of Hazel Bishop products other than the original lipstick.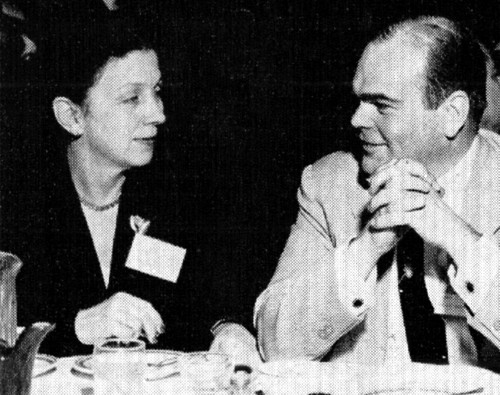 Spector also recapitalised the Hazel Bishop Corporation, thereby reducing the overall proportion of shares owned by Berg and Bishop. He then bought more stock in the company including Alfred Berg's shares. In 1954, with legal bills mounting, Hazel also sold out after signing an agreement in which she reaffirmed all previous covenants. She received $310,000 for services rendered and for her 200 shares which were by then only 8% of the total company stock.
Hazel went on to have a succession of successful careers as a consulting chemist, market analyst and teacher. Her only dealings with the Hazel Bishop Corporation after 1954 began in 1956 when she personally endorsed Miss Perfemme, a solid perfume stick she had developed. She was taken to court by the Hazel Bishop company in 1957 for violating the terms of her agreement with them and after a long process of counterclaim and appeal lost the case in 1963.
Problems
1954 was a watershed year for the Hazel Bishop Corporation. Sales were levelling off and more importantly profits were declining. The following year it would make a loss, leading to it failing to declare its regular quarterly dividend for the first time. Spector noted that the company had experience a 25% increase in costs, part of which was due to $500,000 spent on developing its own manufacturing operations, but clearly the bulk of the costs were related to television advertising that was not generating sales.
Spector had attempted to enter into an agreement with the Toni division of Gillette, to get cash in return for the sale of intellectual property, but the deal had ended up in litigation. He was also having trouble with the television networks over programming decisions and costs, particularly those associated with a few 'stinkers' he had sponsored at NBC. Along with the other networks NBC was trying to dominate programming through its own 'spectaculars' or 'specials' as well as increasing the price of air-time so that it was prohibitively expensive for a company to be the sole sponsor of a show. As television was both the lifeblood of, and a major cost for Hazel Bishop, one can see why Spector was upset. In late 1955, he even went as far as temporarily switching his television budget to radio and newspapers (Fox, 1997). Unfortunately for him and the company, 1955 was also the year that Charles Revson of Revlon had a stoke of good luck.
Revlon
Charles Revson – who founded Revlon in 1932 and had been in lipsticks since 1939 – became concerned about Hazel Bishop, as its sales climbed and it diversified into other product lines. Like others, Revson countered Hazel Bishop's No-smear Lipstick by introducing an Indelible-Creme Lipstick in 1951 and then Lanolite Lipstick in 1954. However, it was through television that he did his competitor some real damage.
Revson had been unsuccessfully investing in television shows but in 1955 was persuaded, much against his better judgement, to sponsor the independently produced 'The $64,000 Question' on CBS. Within four weeks it was number one in the American ratings and the Revlon products it featured experienced sales increases of up to 500% (Tobias, 1976, p. 146). By 1956, due to television advertising, Revlon's proportion of lipstick sales in the American market had gone from 15% to 28% while the proportion sold by Hazel Bishop declined from 28% to 24% (Broadcasting Telecasting, 1956). This might not seem like a huge drop but it was enough for Hazel Bishop to slip into an operating loss.
See also: Revlon and the $64,000 Question
Spector clearly saw the 'The $64,000 Question' as the main cause of the company's problems. as, in 1956, he announced to the board of Hazel Bishop that the operating loss was due to the airing of a new television program sponsored by a competitor. Spector had used television to get remarkable sales figures for Hazel Bishop and now it was being used against him. What must have been particularly galling for Spector was that 'The $64,000 Question' was costing Revlon a lot less money (Tobias, 1976) and Revlon was its sole sponsor. Worse was to follow.
Acquisition
Following stock sales by some of his allies on the board in 1955, Spector lost his leadership role in the company, a position he would not regain until 1957. By then Hazel Bishop sales had dropped to $10 million (from their high of $12 million in 1954) and the company had experienced three years of losses of over $1 million. This forced the company to trim its costs and reduce its advertising budget. In an attempt to stay in television advertising but keep costs low, Spector exchanged his 60% stake in Hazel Bishop for shares in C&C TV in 1958. The sale was noted with some cynicism in the wider industry.
The company has been know for some time now not as a cosmetic company, but a television program. This seems to clinch the definition.
C&C TV – which subsequently changed is name to Television Industries Incorporated – owned the RKO film library and distributed the films without charge to television stations in return for free advertising spots – they had already been using this system to advertise a cola drink. They had trouble finding sufficient products for all of these spots and their acquisition of Hazel Bishop helped fill the gaps. Henceforth, the presence of Hazel Bishop products on television would be through this spot barter system and it withdrew from advertising through network television (Broadcasting telecasting, 1958).
Diversification
After establishing its lipstick sales, the Hazel Bishop company diversified its product line so that by the end of the 1950s it included foundations, face powder, hairspray, deodorant, eye make-up and perfume.
Complexion Glow: "Unlike cake and paste rouges … never streaks, never blotches! Always looks natural—never rouged!"
Compact Make-up: "Foundation plus powder. Never gets shiny! Never changes color! Comes in a special formula for dry skin. Entirely different formula for oily skin!"
Liquid Make-up: "Covers blemishes like magic! Feels wonderfully light! Never masky! Never greasy! Different formulas for dry and oily skins!"
Facial Cleanser: "Penetrates deep down to keep your skin cleaner and clearer! Only cleanser in different formulas for dry and oily skins."
'Once a Day' Deodorant Stick: "Keeps you fresh all day! Not a messy cream! Not a drippy spray. Safe for skin and fabrics."
'Once a Day' Hair Spray: "Contains lanolin to keep your hair softer, plus 'Hi-Sheen' to keep it more radiant. Regular for firmer set and hard to manage hair. Super-Soft for loose casual, softer hair."
The production of 'dry' and 'oily' forms for some products also enabled Hazel Bishop to provide rudimentary treatments for different skin types. Customers with dry skins were to use Dry Skin Cleanser, Liquid Make-up and then Compact Powder (for dry skins) whereas those with oily skin used Oily Skin Cleanser, Liquid Make-up and then Compact Powder (for oily skins).
Budget brand
Spector's marketing strategy was based on sales rather than margins. To maximise sales he had aimed Hazel Bishop at mass-market retailers like Woolworth's rather than staying with department stores, beauty salons and better class drug stores. Cosmetics at the lower end of the retail market compete largely on price which puts pressure of margins. As margins diminish, money to engage in expensive television advertising becomes scarcer, advertising drops off followed by declines in sales; a vicious circle. Some of the price pressure on Hazel Bishop came from other budget brands like Art-Matic but the majors were also partly responsible as many created additional lines to cover the less expensive segments of the cosmetic market. This gave them a considerable advantage as they could leverage the cachet of their premium lines across all their products. while cheaper brands, like those produced by Hazel Bishop, could only compete on price.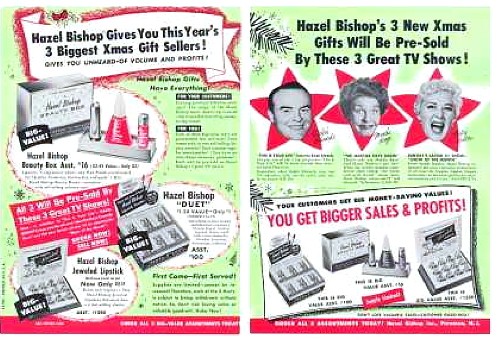 Hazel Bishop languished in this situation through mergers, buyouts and name changes. By the early 1980s, the company, by then called Bishop Industries, was known as a maker of low-priced cosmetics and for the hair and skin products added to the line when Hazel Bishop merged with Lanolin Plus in 1962.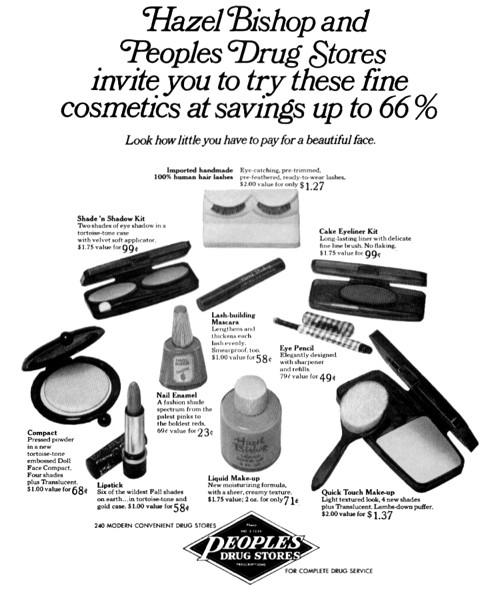 Although many tried to improve the fortunes of the brand it eventually fell into disuse. Hazel Bishop International may be still in operating in New York but as far as I can tell does not sell any product labelled as Hazel Bishop.
Timeline
1948
Hazel Bishop and Alfred Berg form the Hazel Bishop Corporation.
1949
Hazel Bishop lipstick trialed in fashion show at Barnard College.
1950
Hazel Bishop Lasting Lipstick in 6 shades goes on sale in department stores.
Raymond Spector joins the company.
Television advertising begins.
1951
Bishop resigns as President of Hazel Bishop and begins lawsuit.
1952
New Products: Complexion Glow, a liquid-creme rouge.
1953
Sales top $10 million and Hazel Bishop gains 25% of the lipstick market.
New Products: Long-Lasting Nail Enamel.
1954
Bishop settles her law suit against Hazel Bishop, sells out her remaining shares and leaves the company.
Hazel Bishop becomes a public company.
Hazel Bishop acquires a plant in Paramus, N.J.
Hazel bishop lipsticks are reformulated.
1955
New Products: Compact Make-up.
1956
Spector reports to shareholders that the company made a loss in 1955.
New Products: Facial Cleanser (in dry and oily forms); Liquid Make-up; and Once a Day Hair Spray.
1957
New Products: Formula 77 Lipstick.
1958
Controlling interest in Hazel Bishop stock acquired by C&C TV Corporation which then becomes Television Industries, Inc.
New Products: Longer Lasting Hair Spray.
1959
New Products: Complete eye make-up line which includes mascara, eye shadow and eye pencil.
1961
Spector and a group of investors regain control of the Hazel Bishop Corporation.
New Products: Creme 'N Powder.
1962
Hazel Bishop and Lanolin Plus merge to form Bishop Industries.
1964
New Products: Sudden Change, a wrinkle smoother.
1966
Bishop Industries bought by a real estate investment company.
1967
Bishop Industries acquires Veri-Tone of Newark N.J., a private-label manufacturer of cosmetics.
Bishop Industries acquires Beadmore, Inc. makers of bath products.
1971
Bishop Industries under Chapter XI sells plant, offices and real estate in New Jersey. Future manufacturing will be through private label makers.
1975
Bishop Industries bought by Morton Edell and becomes a division of Toiletry Products of America.
1981
Toiletry Products of America sold to Quadrillion, Inc. and becomes Bishop Industries again.
Hazel Bishop cosmetics selling in stores again after several years of inactivity.
1991
Bishop Industries sold to an investment group led by Jack Rosen. Renamed Hazel Bishop International, Inc.
Updated: 13th July 2017
Sources
Appell, L. (1982). Cosmetics, fragrances and flavors: Their formulation and preparation with an introduction to the physical aspects of odor and selected syntheses of aromatic chemicals. Whiting, NJ: Novox.
Archer, A. (1957). Your power as a woman: How to develop and use it. New York: Hazel Bishop, Inc.
Broadcasting telecasting: The newsweekly of radio and television. Washington, DC: Broadcasting Publications, Inc.
deNavarre, M. G. (1975). The chemistry and manufacture of cosmetics (2nd. ed., Vol. IV). Orlando: Continental Press.
Drachman, V. G. (2002). Enterprising women: 250 years of American business. Boston, Mass: Vernon Press.
The drug and cosmetic industry. (1958). New York: Harcourt Brace Jovanovich.
Fox, S. R. (1997). The mirror makers: A history of American advertising and its creators. Chicago: University of Illinois Press.
Perfumery and essential oil record. (1954). London: G. Street & Co., Ltd.
Television magazine. New York: Frederick Kugel Company, Inc.
Tobias, A. (1976). Fire and Ice: The story of Charles Revson—the man who built the Revlon empire. New York: William Morrow.
Ware, S. (Ed.) (2004). Notable American women: A biographical dictionary. USA: Radcliffe Institute for Advanced Study.