Continued from: Revlon
By the early 1970s, Revlon had six semi-autonomous cosmetic lines each with its own products and management team: Revlon, Moon Drops, Ultima II, Natural Wonder, Etherea/Fine Fragrances and Princess Marcella Borghese. A company report from 1973 suggests that the development of these lines was part of a comprehensive business strategy begun in 1967.
The strategy grew out of an extensive study which revealed that although cosmetics was a mass market, it was not a homogeneous one. The market consisted of large segments of women who differed from each other in subtle but vital respects. Women's cosmetics brand preferences, the amounts they spent and the stores they shopped were largely determined by their attitudes about themselves—their identities. And since no one identity could fit all women, no one brand could fill all women's complete cosmetic needs. Research further indicated that Revlon's continued industry leadership depended on its ability to properly serve each major identity segment with a distinct product line appropriate to its specific needs.
Creating those major lines or "houses" effectively lead us to develop six autonomous businesses each complete with its own products, management team, distribution pattern, marketing plan and profit responsibility.
Looking at the six lines in question it seems hard to believe that their creation was part of a coherent long-term strategy: Revlon, Princess Marcella Borghese and Moon Drops were formed before 1967; Natural Wonder, and Etherea were developed quickly in response to activities by other companies; and Ultima II was developed because of Charles Revson's enduring desire to be in the prestige cosmetics business.
Revlon
As Revlon's original line, the range encompassed many important products introduced early in the company's history including: Touch & Glow (1950); Love Pat (1953); Liquid Asset (1957); Waking Beauty (1953); and Revlon Nail Enamels and Lipsticks.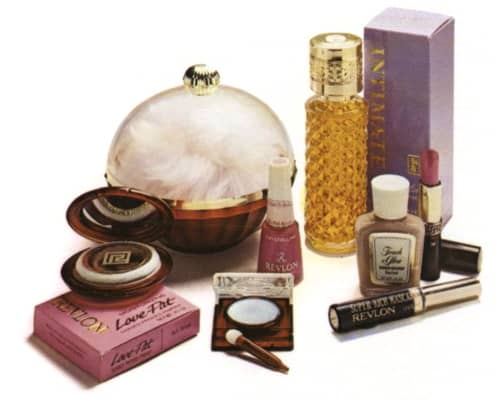 Many new additions were made to the line after 1960 with some notable items being: Wonder Cover (1962), a concealer; Blush-On (1962), a tinted blending powder applied with a special brush; Brush-On Eyeshadow and Brow Beautiful (1964), two brush-on eye cosmetics; Sweeping Beauty (1965), a lightly textured powder make-up; and Face Gleamer (1967), a transparent stick blusher.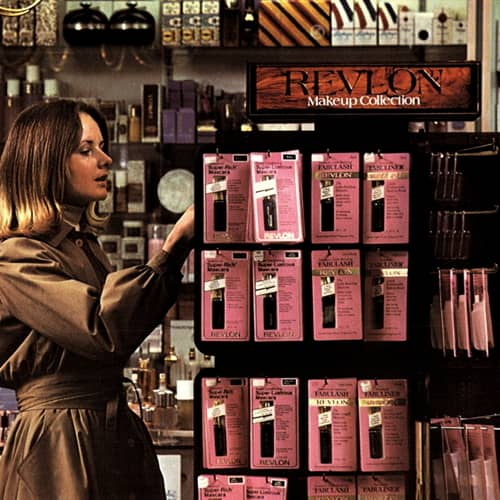 Princess Marcella Borghese
After a rather hesitant start, the Borghese line continued to be supported and extended after 1960 as part of Charles Revson's strategy to sell high-end, more exclusive cosmetics in department stores. However, it failed to protect Revlon from Estée Lauder's encroachment into this space.
Products in the range included: Lip Brillante lipsticks with matching Nail Cristallo and Nail Glaciale (frosted) nail enamels (Shades: Granato, Rubino, Corallo, Zaffiro, Ametista, Opale Rosa, Perla Nebbia, Arancia Fiamma, Oro Fiorentino, and Argento Fiorentino with later additions including Giotto Pink, Neapolitan Coral, Vivida Rosa, Bianco Brillante and Bianco Perla); Collezione Luminosa custom formula make-up (Velluto, a liquid make-up, Lustre, a powder and Solida, a pressed powder); and Liquid Eye Accent (eyeshadow, eyeliner and mascara); with body treatments added to the line in 1966 and the Borghese Garden Collection using extracts of fruits and vegetables introduced in 1971. The widespread use of Italian sounding names was supposed to give the impression that the cosmetics were imported from Italy even though they were actually developed and made in the United States.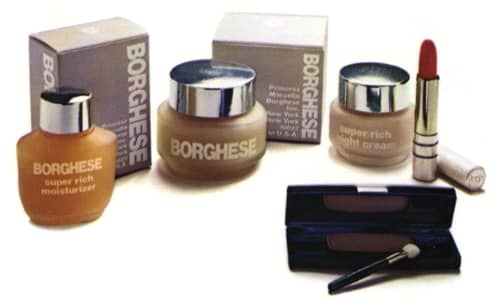 Moon Drops
The Moon Drops line was established in 1960 and catered to the increased interest in skin moisturisation that had begun in the 1950s and became a staple of many skin creams and lotions in the 1960s and thereafter. Additions created a complete line of moisturising skin-care products and the moisturising theme was also extended to a range of make-up. Products added to the line after 1960 included: Moon Drops Extra Emollient Moisture Balm (1962); Moon Drops Moisture Bath Lipstick, Moon Drops Toning Lotion for Sensitive Skin, Moon Drops Moisturizing Bath Oil, and Moon Drops Facial Mask (1964); Moon Drops Moisture Balm for Extra-Dry skin, Moon Drops Body Massage Lotion, and Moon Drops Nourishing Night Cream (1965); Moon Drops Blushing Silk Moisturiser plus Color (1966); Moon Drops Fashion Collection of transparent make-up (1967); Moon Drops Demi Facecare and Moon Drops Demi Lipsticks (1968); and Moon Drops Luminesque Cream Blusher (1969).
Moon Drops products were also included in Revlon's Renaissance Treatment Collection – advertised in the 1960s as the 'most complete Beauty Care Program ever developed'. The Renaissance range also contained Eterna 27 – a skin cream containing pregnenolone acetate trademarked as Progenitin introduced in 1961 – and a number of older Revlon lines including Waking Beauty Night Cream, Clean and Clear Cleansing Lotion, and Liquid Asset Conditioner and Freshener, all developed during the 1950s.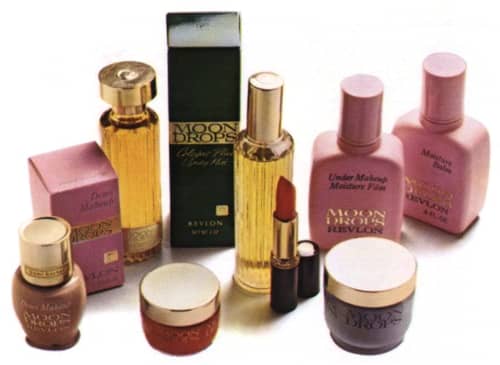 Natural Wonder
In January 1961, the Noxzema Chemical Company of Baltimore, Maryland released its new Cover Girl make-up range medicated with hexachlorophene. Beginning with Cover Girl Liquid Make-up and Cover Girl Pressed Powder the company followed up with Cover Girl Face Powder later in the year and Cover Girl Matte Make-up in 1962. Despite the fact that the line was very limited and only came in three shades, a slick advertising campaign meant that it sold well to its target youth market and the line went on to be expanded into the successful make-up and skin-care range that it is today.
See also: Cover Girl and Hexachlorophene
Revlon was not well represented in the youth market and the success of Cover Girl led the company to introduce Natural Wonder in 1962. Like Cover Girl, the Natural Wonder line was an economy cosmetics brand, was also medicated with hexachlorophene and also came as a liquid, pressed and loose powder, as well as a matte make-up.
Revlon was not the only company creating a medicated make-up range at the time; for example, in 1962, Max Factor introduced its Pure Magic line which also used hexachlorophene as the antimicrobial.
See also: Max Factor
Like other manufacturers, Revlon stopped using hexachlorophene when its use was restricted by the American Food and Drug Authority (FDA) but the company continued develop the Natural Wonder line adding products such as: Natural Wonder Un-Lipsticks (1968); Natural Wonder Blotting Blusher (1968); Natural Wonder Great Glisteners (1970); Natural Wonder Glisstick Lipstick (1971); Natural Wonder Soft Blush (1971); and Natural Wonder Shiny Eyeshadow Crayon (1973).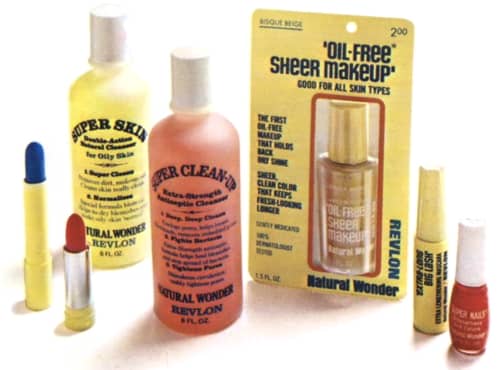 Unfortunately for Revlon, Cover Girl continued to erode Revlon's sales in pharmacies, drug and chain stores where price-sensitive and younger women made most of their purchases.
Etherea
A few smaller cosmetic companies such as Almay Cosmetics (1931) and Ar-Ex Cosmetics (1935) had been producing cosmetics (sometimes described as hypo-allergenic) for customers with sensitive skin that were prone to reactions to fragrances and other notable allergens found in regular cosmetics. Revlon largely ignored this market until Estée Lauder introduced her Clinique line in 1968.
Clinique was a beautiful line. Handsomely packaged and even more handsomely priced, it promised the cosmetics buying consumer she would be getting products which were 100% allergy tested and 100% fragrance free. Every conceivable cosmetic was offered in this unique formulation from lipsticks to skin clarifiers.

(Abrams, 1977, p. 95)
Charles Revson's response to Clinique was the Etherea line developed in 1969. Described by Revlon as 'beginning where hypo-allergenics end' the line never really gained much traction and like Natural Wonder it failed to put a dent in the targeted opposition. however, it was persisted with and new products were added over the years including: Etherea Special Formula Lipstick (1971); and Etherea Excess Oil Blotting Gel (1972).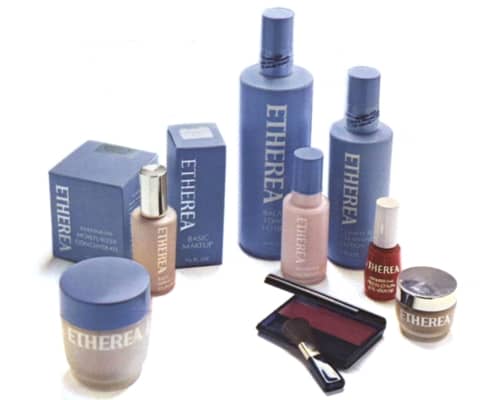 The size of the line can be judged by the fact that in 1971, the Etherea Division became Etherea and Specialty Lines, and this in turn was reorganised as Etherea/Fine Fragrances in 1973.
Estée Lauder
The development of Etherea was only one of a number of actions that Charles Revson took to counteract the encroachment of Estée Lauder. Abrams suggests that Revson had a certain admiration for Lauder that was not evident in his dealings with his two older adversaries, Helena Rubinstein and Elizabeth Arden.
Charles Revson admired Estee [sic.]. She was a woman who did things precisely in the style he agreed with – sophisticated, smart, emphasis on department stores and high prices, beautiful packaging, good fragrances, and slick advertising.

(Abrams, 1977, p. 95)
Revson tried to counter her growth by copying many of her products and advertising tactics.
[W]hatever Lauder did, Charles soon followed. She offered "gift with purchase"; he offered gift with purchase. She went to using a single model exclusively; he followed with Lauren Hutton for Ultima—and one-upped her by signing Richard Avedon as her exclusive photographer. She went to sepia ads; he went to sepia. She switched back from sepia; he switched back. She bought out a "stinky" fragrance (Charles's word); he bought out a stinky fragrance. She brought out Aramis; he brought out Braggi. She brought out Clinique; he brought out Etherea. She brought out a fragrance called Estée; he brought out Charlie. To add insult to unoriginality, he put copied products in his less-than-Ultima lines, to cheapen the originals by association.
Although Lauder in the 1960s was nowhere near the size of Revlon, it operated in the part of the cosmetics market that was nearest and dearest to Charles Revson, namely department stores. Although maintaining department store space can be expensive – as the manufacturer shares advertising and promotion costs, and sales salaries with the stores – cosmetics sold there were more prestigious. Revson's concern about Revlon becoming less fashionable was the main reason behind the establishment of the Princess Marcella Borghese line in 1958, the first time Revlon had used a 'celebrity' endorsement; the opening of 'The House of Revlon' beauty salon in New York in 1961; and the revamping of the Ultima line as Ultima II in 1964.
The House of Revlon
The House of Revlon salon was established in May 1961 at 698 Fifth Avenue on the second floor of the Gotham Hotel at the corner of 55th Street. Although it garnered a good deal of media attention when it opened, and was frequented by many well-heeled but temperamental clients, it is unlikely that it ever paid its way from the day it opened until the day Revson shut it down in 1972.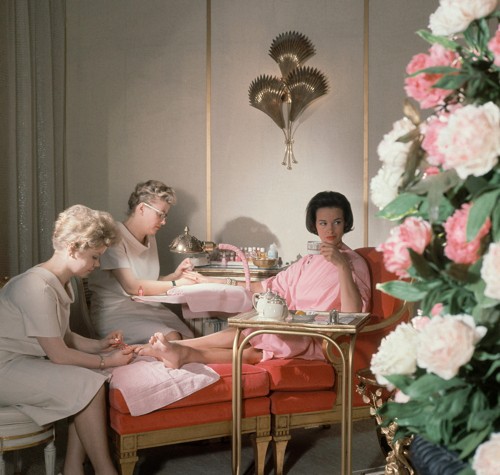 Ultima II
Ultima II was the sixth line mentioned in the 1973 annual report and the third arm in Revson's efforts to keep Revlon in the prestigious end of the cosmetic market. The line began with Ultima (1959), a nutrient night cream produced to compete with products such as Rubinstein's Tree of Life (1958), Arden's Creme Extraordinaire (1958) and the much older Charles of the Ritz's Revenescence Cream, originally called Rejuvenescence. In 1960, Ultima make-up, liquid foundations, powders and lipsticks in natural complexion tints were added; the line did not do very well but, as usual, Revson persevered with it.
When Ultima was first put together … it was a flop. One ad showed the most obnoxious-looking spoiled, chubby kid in shorts and knee socks with his mother, who looked more uncomfortable than sexy, sitting on an overstuffed ottoman in an overdone living room … the idea apparently was to reach into Park Avenue's poshest parlor—and it didn't work. But Charles Revson, we all know by now, was not a man to give up. The products, packaging, and approach were all reworked, the line doggedly promoted, until eight years after its initial introduction it finally turned a profit.
In 1964, the line was overhauled and released as Ultima II, then expanded in 1966 to include a fragrance and a complete skin treatment line of twelve products. It eventually included products such as: Milky Facial Bath, Creamy Cleansing Concentrate, Lotion Refreshant, Under Makeup Moisture Lotion, Under Makeup Nutrient Creme (1966); Translucent Wrinkle Creme (1968); Deep Deep Cleansing Foam (1968); 3-Minute Foaming Facial (1968); Mineral Masque Concentrate; and Eye Creme Concentrate. Make-up in the line contained items such as Nutrient Makeup, Pressed Powder Compact, Eyeliner Cake, Lash Makeup Automatic, Brow Makeup Cake, and Patina Eye Shadows.
Ultima II has the distinction of being the first Revlon line to carry the personal endorsement of Charles Revson and the first Revlon range to use an exclusive modelling arrangement, the model being Lauren Hutton who signed in 1973.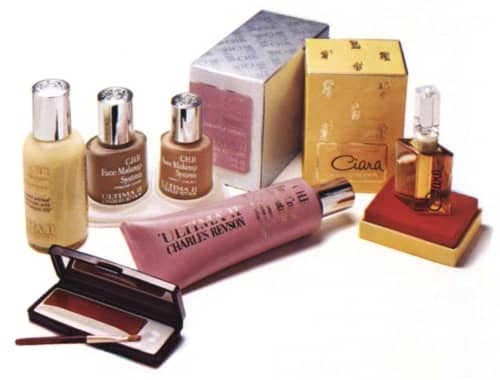 None of these tactics saved Revlon from Estée Lauder. Her sales numbers continued to rise and would eventually outstripped Revlon's.
Charlie
In 1974, Revlon launched the Charlie line success of the Charlie fragrance (1973). Cosmetics in the line included a complete skin-care range and all the usual items associated with make-up.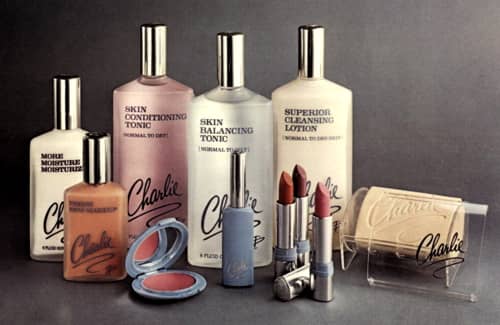 The Revlon conglomerate
Starting in 1957 with Knomark, Inc., the makers of Esquire shoe polish, Revlon acquired a number of businesses Revson hoped would maintain growth and reduce the company's dependence on cosmetics. Some of Revlon's acquisitions had a relationship with the beauty business – selling products like shampoos, hair dyes and wigs – but many did not making products such as artificial flowers, dresses, plastics, toilet cleansers and room deodorisers. Revson was not an acquisition genius and many of his purchases proved to be less than successful, the one major exception being the U.S. Vitamin & Pharmaceutical Corporation which Revlon bought in 1966.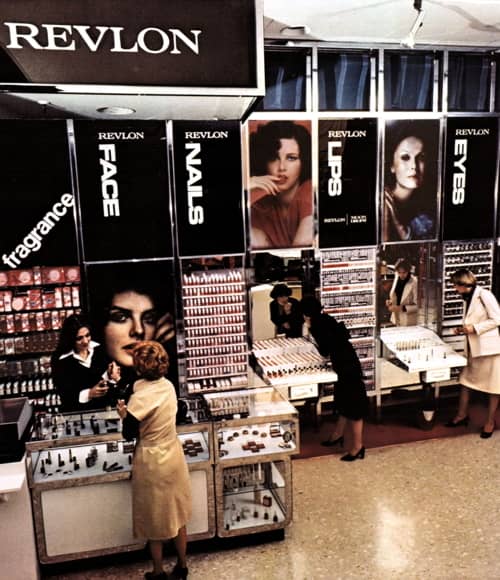 The acquisition program was probably the main reason behind Revson selecting Michel Bergerac as his successor. Bergerac had been in control of International Telephone and Telegraph's (ITT) European operations and had made a number of successful acquisitions for that company while he was there.
Revlon prospered under Bergerac until the 1980s after which it went into decline and in 1985 Revlon was subjected to a hostile takeover that saddled it with a large amount of debt, forcing its new owners to sell off of many of its divisions. Revlon still operates today although not in the high-end of the market so dear to its founder.
Timeline
1961
House of Revlon opened at 698 Fifth Avenue, New York.
Revlon Hair Color Clinics and Training Centers set up in major American cities.
Intimate and Aquamarine packaging redesigned.
New Products: Eterna 27, skin cream; Contempera, matte finish make-up; Eye Velvet, moisturising fluid cream eye shadow; Super Lustrous II lipstick; That Man After Shave Lotion and Talcum.
1962
Salon-Hair Color Division established.
Revlon Research Centre, Inc. established in New York.
Love-Pat repackaged.
New Products: Natural Wonder medicated make-up; Blush-On, tinted blending powder; Wonder Cover, corrective spot make-up; Contempera special formula for dry skin; Moon Drops Extra Emollient Moisture Balm for dry skin; Sculptura slim line lipstick; Flex protein treatment for hair.
1963
Manufacturing and sales established in Japan.
New Products: Fabulash, lash lengthener and mascara.
1964
Belvedere Products, makers of salon equipment and Belmont Laboratories (Mazon Dermatologicals) bought.
New Products: Ultima II make-up line; Super Natural Hair Spray; Moon Drops Moisture Bath Lipstick.
1965
Revlon sells Schick Electric, Inc.
New Products: Sweeping Beauty make-up; Colorsilk home hair colourants.
1966
U.S. Vitamin & Pharmaceutical Corporation, Parfums Raphael SA, France (including Parfums Marcy, Inc. their U.S. distributor) acquired.
New Products: Under Make-up Nutrient Crème; Frostlings lipstick; Crystalline nail enamels; Blondsilk home hair toner; Sunnyside Up, a shampoo hair lightener; Moon Drops Blushing Silk moisturiser plus colour; Ultima II expanded to include a fragrance and complete skin treatment line; Braggi line of products for men.
1967
New Products: Face Gleamer, a transparent blusher; Moon Drops Demi-Makeup, a transparent make-up; Ultima II Transparent Face Tints, Lip Tints, Nail Tints and Shadow Tints; Natural Wonder oil-free products for oily or blemished skin; Patina Eye Shadows; body treatments added to Princess Marcella Borghese.
1968
Revlon's Professional Products division moves to New York.
Cosmetics and Fragrance Division established.
Revlon Development Corporation established.
New Products: Moon Drops Demi Facecare and Lipsticks; Natural Wonder Un-Lipsticks and Blotting Blusher; Transparents, a nail enamel; Ultima II Translucent Wrinkle Creme, Deep Deep Cleansing Foam and 3-Minute Foaming Facial; Touch & Glow liquid make-up in a roll-on; and Cream Concealer cover cream.
1969
Revlon Eye Makeup line repackaged.
New Products: Etherea, a hypoallergenic line; Young Blush, transparent face powder; Moon Drops Luminesque Cream Blusher; Ultima II Perfect Make-up, Eyecontoure 70; and Natural Wonder acne treatments and hypoallergenic make-up.
1970
Mitchum Company bought and merged with Thayer Laboratories to form the Mitchum-Thayer Division.
New Products: Ultima II Body Couture Collection, Eye Couture Collection and Perfect Make-Up for Nails; Natural Wonder Great Glisteners lipsticks.
1971
New Products: Revlon Colorshine lipstick, Natural Herb Cleanser, Natural Honey Lotion; Natural Wonder Glisstick lipstick and Soft Blush; Etherea Special Formula Lipstick; Ultima II Skim Milk Natural/Organic Skincare; Borghese Garden Collection; and Flex Balsam & Protein Shampoo and Conditioner
1972
House of Revlon closes.
New Products: Ultima II Super Luscious Lipstick; Princess Marcella Borghese Roman Gold collection; and Etherea Excess Oil Blotting Gel.
1973
Revlon contracts the model Lauren Hutton as its first face.
New Products: Charlie fragrance; Moon Drops Complete Skincare Series and All-Weather Cream Blush; Ultima II C.H.R. Skincare Concentrates with collagen 100; Natural Wonder Shiny Eyeshadow Crayon and Super Nails; and Revlon Milk Plus 6, shampoo, cream rinse and conditioner.
1974
Borghese line repackaged.
New Products: Charlie line; Touch & Glow Moisture Cream and Frosted Make-up; Moon Drops Multiple Moisture Action; and Natural Wonder Shiny Lip Color Crayons, Frosted Lip Color Crayons and Eye Shadow Crayon Pencils.
1975
Charles Revson dies and Michel Bergerac assumes the leadership of Revlon.
1977
Carlos Colomer, a Spanish professional beauty supply distributor acquired.
1985
Revlon taken over by Pantry Pride, a subsidiary of Ronald Perelman's MacAndrews & Forbes Holdings, and becomes a private company. Bergerac leaves. Non-cosmetics businesses sold off.
1986
Pantry Pride changes its name to Revlon Group, Inc.
Playtex beauty division (includes Max Factor, Almay and Halston Fragrances) bought.
1987
Revlon Group, Inc. goes public.
Germaine Monteil Cosmetiques acquired from Beecham.
Parts of Lanvin-Charles of the Ritz, Inc. acquired from Yves Saint Laurent.
1989
Betrix Cosmetics GMBH bought.
1990
Revlon bank loans restructured.
1991
U.S. rights to Germaine Monteil and Lancaster sold to Jon A. Benckiser GMBH (West Germany).
Max Factor & Co. and Betrix GMBH sold to Proctor & Gamble.
Clean-Clear skin care range sold to Johnson & Johnson Products, Inc.
1992
Princess Marcella Borghese and Halston Enterprises sold to a Saudi investment group.
1996
Revlon makes a public offering of stock.
2000
Revlon's professional products line and Natural Wonder sold to companies formed by the private equity firm CVC Capital Partners.
Updated: 3rd March 2017
Sources
Abrams, G. J. (1977). That man: The story of Charles Revson. New York: Manor Books, Inc.
Dallaire, V. J. (1951). From and idea to $20,000,000 The American Perfumer & Essential Oil Review, February, 115-118.
Tedlow, R. S. (2003). Giants of enterprise. Seven business innovators and the empires they built. New York: HarperCollins Publishers, Inc.
Tobias, A. (1976). Fire and Ice: The story of Charles Revson—the man who built the Revlon empire. New York: William Morrow.
Revlon, Inc. Annual Reports 1961-1984.
Rise of Revlon. (1947). The American Perfumer & Essential Oil Review, May, 481-482.