Continued to: Yardley (post-1945)
Although 1770 is given as the foundation date for the House of Yardley, the firm was actually established by Samuel Cleaver [c.1750-1805] and it would be a new century before the Yardley family became involved in the business. The Yardley and Cleaver families connected through marriage, with two of Samuel Cleaver's sons marrying daughters of William Yardley [c.1756-1824] – William Cleaver married Hermina Yardley in 1801 and Edward Cleaver married Rosina Yardley in 1808.
When Samuel Cleaver died in 1805, he left the business to his wife and four sons who traded under the name of the Cleaver Brothers. Exactly how the business ended up in William Yardley's hands is not clear. Thomas suggests that William Yardley had provided surety for a £20,000 loan that his son-in-law, William Cleaver, had taken from Coutts bank and had acquired the business in 1823 when the debt could not be repaid (Thomas, 1953). Even if true, this cannot be the whole story.
Bankruptcy notices issued against the four brothers indicate that the business had slipped into insolvency as early as 1813. However, William Cleaver was declared bankrupt again in 1823 while trading under the name of William Cleaver and Company, so it is possible that William Yardley provided surety for his son-in-law to buy his brothers and mother out, and when the business finally collapsed he gained control in return for paying his son-in-law's debts as Thomas suggested.
Yardley and Statham
William Yardley died in 1824, one year after acquiring the Cleaver soap and perfume business. He left the company to his son Charles Yardley [c.1795-1882] who then got his cousin Frederick Cleaver to manage it. When Frederick resigned in 1841 to start his own perfume and soap business – F. S. Cleaver & Sons – Charles partnered with William Statham [1809-1863] who ran the firm then renamed as Yardley and Statham. Describing itself as a manufacturer of superior toilet soaps and choice perfumery, Yardley and Statham had offices at 7 Vine Street, Bloomsbury, London and at 5 Rue des Vieilles, Haudriettes, Paris. They sold a variety of products for men and women including soaps, perfumes, toilet waters, toiletries, face powders and pomades for the hair.
Sun Flower Oil Soap: renders the skin beautifully soft, white, and pliant, and emits a refreshing and exquisite odour; it is acknowledged to be the Perfection of Toilet Soaps.
Honey Soap: invented by them in the year 1845, continues to command the most undeniable appreciation by the public.
Cold Cream Soap: prepared expressly for Ladies and Infants, is perfumed with Otto of Roses, and has been justly ranked as the most efficient, yet harmless improver of the complexion.
Yardley and Statham traded domestically through chemists and dealers in perfumes but also shipped goods aboard to British dominions like Australia, as well as to the United States and Europe.
Yardley & Company
After William Statham's death in 1863, the firm passed into the hands of Charles Yardley's son, Charles Yardley junior [1824-1872], who died before his father. Charles Yardley junior's son, Robert Blake Yardley, was too young to run the business so it was put in the capable hands of Thomas Gardner, who became its manager and later a partner in the business. In 1890, Gardner converted Yardley into a joint stock company (Yardley & Co. Ltd.) and became its first chairman. Notification of the new joint stock company indicates that the business was previously carried on by Mary Anne Sophia Yardley and Thomas Exton Gardner at Ridgmount Street, St. Pancreas ('The Chemist and Druggist', August 9, 1890).
Poor management saw the company's fortunes decline after Thomas' death in 1891 and it would not be until his two sons, Thornton and Richard, joined the firm that its fortunes would rise once again. Thornton joined the company in 1890, became a director in 1897 and the managing director in 1900; Richard joined the company in 1900 and became its secretary in 1905 (Thomas, 1953).
A new century
The situation the brothers faced in 1900 was very different to that of their father. Prime Minister Gladstone's removal of the tax on soap in 1853 had made soap cheaper, stimulating increased production, but the entrance of new soap manufacturers, like the Lever Brothers, increased competition. Scientific developments, particularly in the production of caustic soda, were also moving soap production from a cottage industry into full-scale industrialisation. The long-term effect of all this was that the soap industry was entering a period of consolidation in which large companies would dominate the trade.
Wisely, the brothers decided to expand the perfume and toiletries side of the business and, by the beginning of the First World War, Yardley was producing an expanded range of toilet requisites that included perfumes, toilet waters, soaps, face powders, toothpastes, brilliantines and shaving sticks.
A decision was also made to move from wholesale to retail. This meant that the Yardley brand needed to be strengthened. A retail store was opened at 8 New Bond Street, London in 1910 and overseas depots were established, beginning in 1905 with an office in Pitt Street, Sydney, Australia. These depots would eventually become subsidiary companies in the 1930s.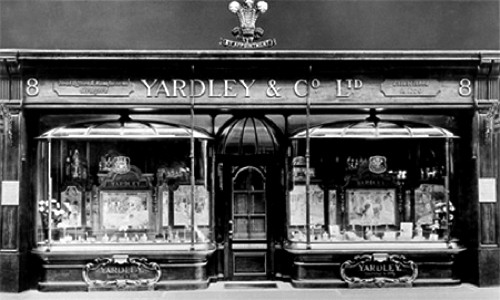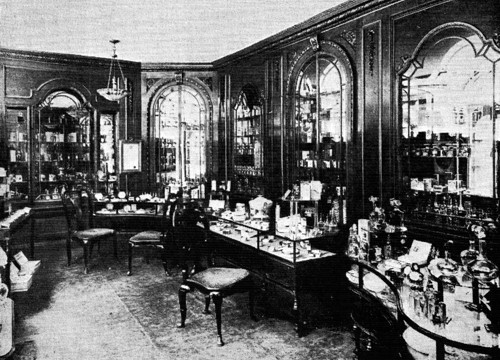 The company's manufacturing base expanded to meet the increasing demand. A three-story factory had been situated in Vine Street, London from before 1855 and the company had moved to a new and larger factory in Ridgmount Street, Bloomsbury in 1883. This was now inadequate so the company took out a 100-year lease from the Carpenters Company and built a larger factory at Carpenters Road, Stratford in 1904.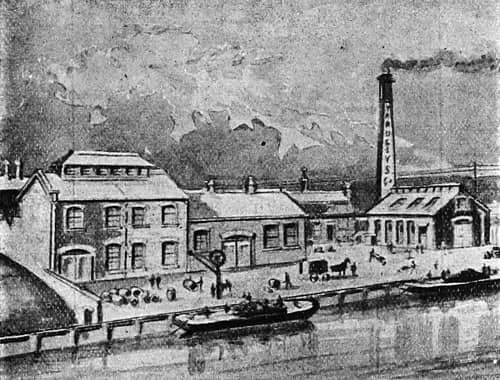 In 1918, additional land next to the factory was acquired and a building was leased in High Street, Bow for a bonded warehouse used to manufacture and store perfumes for export.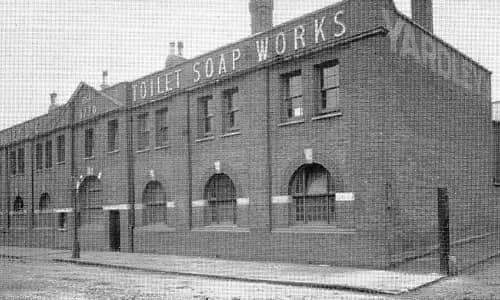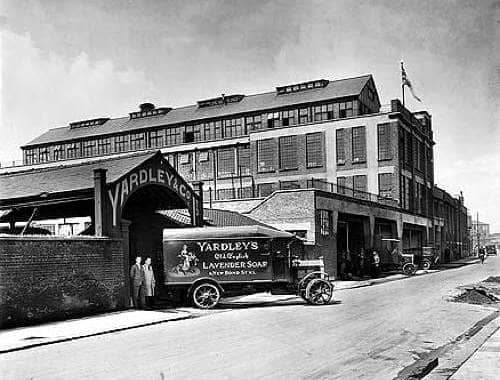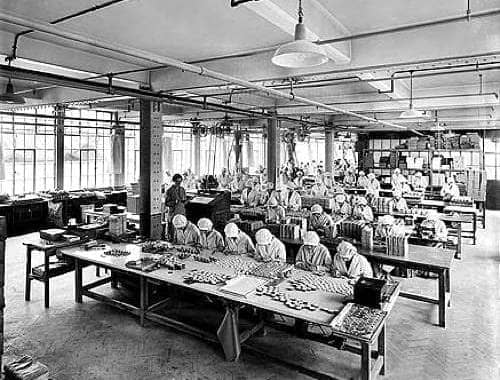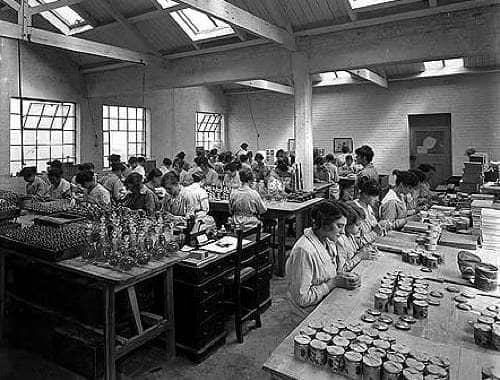 In 1926, a three-story block was completed and in 1931 a second three-story block was added. A new box-making factory was established in High Street, Stratford in 1937, commencing production in 1938.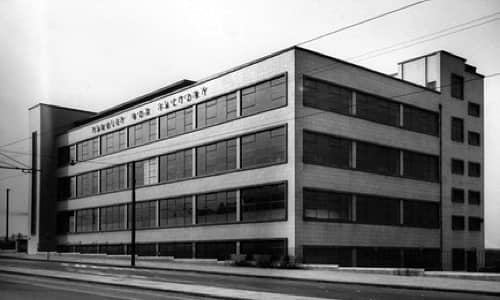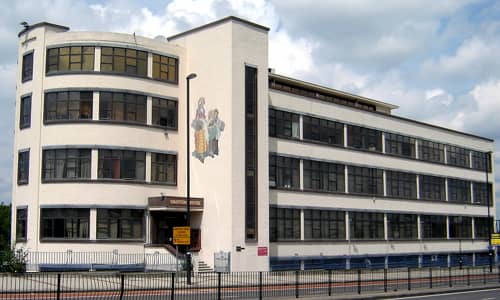 Both properties were damaged during the war but the company had moved much of its stock and reserves to a site at Boreham Wood where it was stored until the building was requisitioned.
Lavender
Apart from the period encompassing the French Revolution and the Napoleonic Wars – when French ports were blockaded and the distribution of French perfumes was restricted – France dominated world perfume markets through to 1914 with the only exception being lavender which was, along with rose and violet, one of the most popular scents in Victorian times. As well as being used in soaps, perfumes and toilet waters lavender was used in potpourris, to scent clothing and linen, and as a cure-all.
English lavender was generally regarded as being superior to French and it commanded a higher price. As well as differences in the types of plants grown, English lavender came from the flowers of cultivated plants, whereas French lavender of the time came mainly from wild plants and often included stems and leaves along with the flowers.
Although Yardley promoted English lavender in its advertising, much of the lavender it used, particularly in its cheaper lines, was French. Price was not the only factor. The traditional English lavender growing regions in Surrey and Lincolnshire were in decline, mainly because of the expansion of greater London. Fortunately, in the 1930s, a new lavender growing area was established in Norfolk and Yardley built a distillery there to extract it.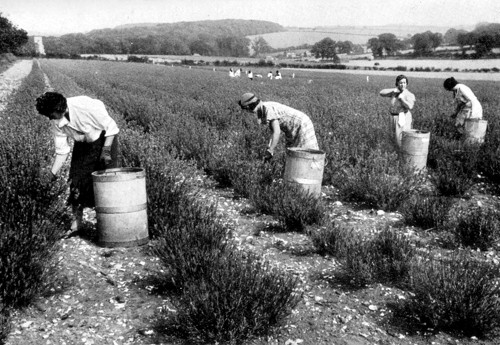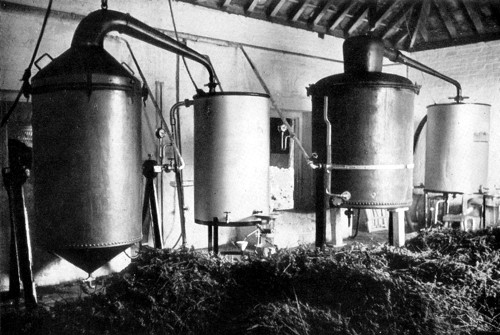 The use of French lavender in Yardley products appears to have ceased sometime after the Second World War. John H. Seager (a retired board member) was sent overseas in the 1930s to source different species and cultivars of lavender. From these Yardley developed its own cultivar of Lavandula angustifolia which was grown in England and used exclusively in all their lavender products after the war (Thomas, 1953).
In 1913, Yardley purchased an engraving of Francis Wheatley's 'The Flower-sellers' – part of his 'Itinerant Traders of London' series of paintings. Despite the fact that the painting depicted the sale of primroses not lavender, it was used to promote Yardley's 'Olde English Lavender Soap' and other lavender-based products for many years to come. The company also produced porcelain versions of the flower-seller for use in advertising displays; these are are now highly collectable.
Yardley & Company Ltd.
Although the Yardley brand was well established in the British dominions, it was less well known elsewhere. Steps to rectify this were taken after Yardley become a Public Limited Liability Company in 1920. An American subsidiary company was established in 1921, with an office at 15 Thirty-Sixth Street, New York, then moved to larger premises in Madison Square in 1923. New York showrooms were also opened at 452 Fifth Avenue but these were relocated to the British Empire Building in the Rockefeller Center in 1933. Branches were also established in other American cities including Chicago (1928), San Francisco (1928) and New Orleans (1934) the later being transferred to Dallas, Texas in 1937.
In 1924, Yardley purchased the French perfumery Viville (established 1892) with its main office at 24 Avenue de l'Opera, Paris and factory in the suburb of Courbevoie. The Avenue de l'Opera shop was redecorated by Émile-Jacques Ruhlmann [1879-1933] and Yvonne Brunet was engaged to redesign Viville packaging. By 1937 the showrooms and offices were moved the more fashionable position at 279 Rue St. Honoré. Operating as Viville-Yardley, until it became Yardley et Cie, it was used to promote Yardley products throughout France and Europe.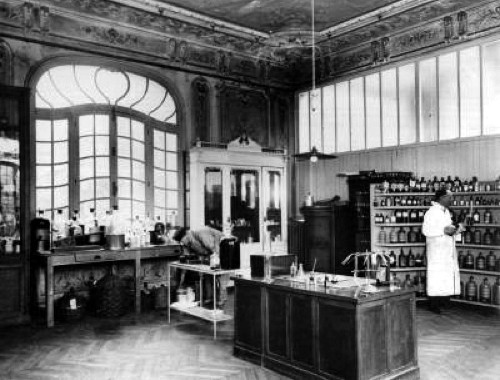 The British dominions were not forgotten and subsidiary companies were set up in Toronto, Canada (1935) and Sydney, Australia (1939). As Yardley subsidiaries developed they set up factories to make or assemble Yardley products. This increased production, saved on transportation costs and enabled Yardley to avoid local import duties.
In 1927, Yardley needed more space than was available in the upper floors of New Bond Street so new premises were leased nearby at 7 Pollen House, 10 Cork Street. Subsequently, a perfume laboratory and art studio were also established there. By 1933, the continual growth of the company necessitated another move, this time to Sackville House in 40 Piccadilly, Mayfair. The company moved its retail showrooms, offices, laboratory, art studio, and advertising department into this building and it became the management and wholesale sales centre for the company.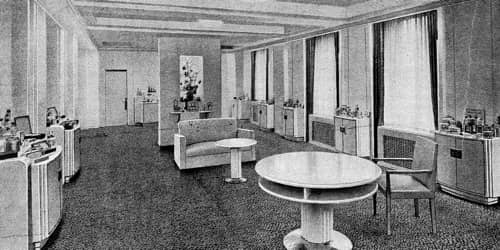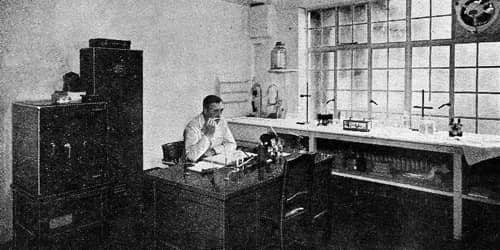 When the lease ran out on the building at 8 New Bond Street Yardley moved its retail shop to the ground floor of Yardley House at 33 Old Bond Street a new building the company had constructed In 1931. Émile-Jacques Ruhlmann was once again engaged in the design of the shop.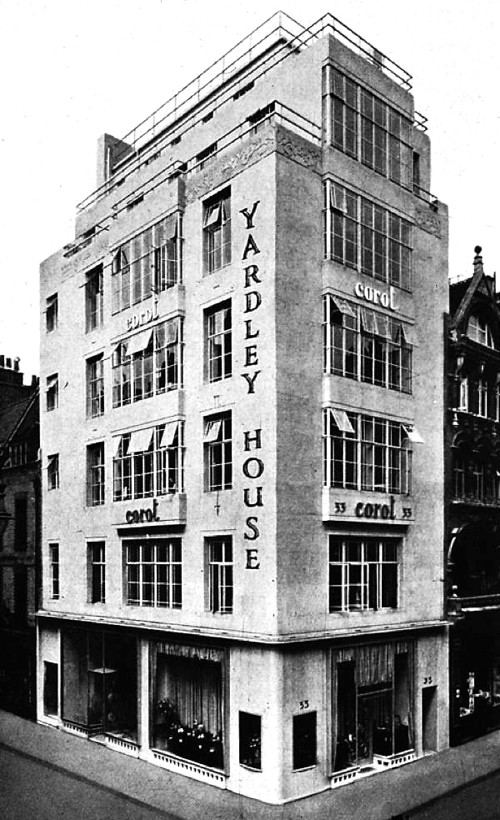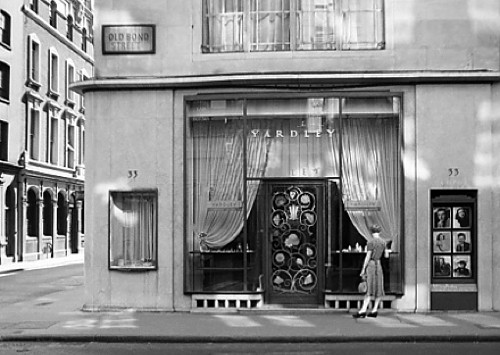 By the late 1930s Yardley was thriving. The British government had removed the spirit duty on lavender in 1932 and, as Yardley perfumes and toiletries were now more competitive, this was a tremendous boost to sales, helped by Queen Mary issuing a second Royal Warrant for Yardley perfumes, also in 1932 – a previous Royal Warrant had been issued in 1921 by Edward, Prince of Wales, for perfumes and soap. Unfortunately, this streak of good fortune would be interrupted by the outbreak of war in 1939.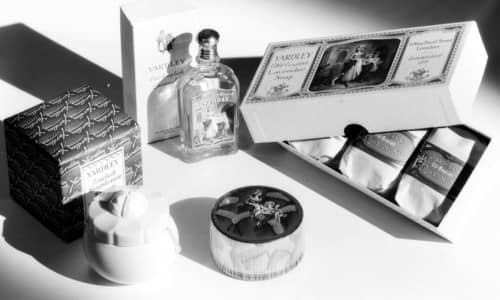 As well as the Gardner brothers, some of the company's success during the interwar period can be attributed to the work of William A. Poucher and Reco Capey.
William Poucher
W. A. Poucher worked as a consulting perfumer-chemist for Yardley from 1927 joining the firm in 1929 after disposing of his consulting practice. His appointment as a perfumer was a bold move at the time, as he was English not French, but he had solved an important cosmetic problem for Yardley in 1929 (Bouillette, 1955) – which I assume to be associated with the formulation of English Complexion Cream released in that year – which impressed the Yardley board. He produced a range of new fragrances for Yardley including Freesia, Orchis and Bond Street and also worked on the formulation of numerous products in the Yardley range.
Reco Capey
Reco Capey was engaged by Yardley as its Art Director in 1928 and was later assisted by Katharine Bertram Stone. The couple were married in 1936 and they went to New York together in 1940 for the duration of the war. During Capey's time as Art Director, Yardley's elegant cosmetic containers with flower and honeybee motifs were designed. Manufactured by Beetle Products Co. Ltd., they made Yardley products very distinctive in the 1930s and 1940s. Reco Capey was also placed in charge of other areas of design including advertising artwork as well as store fittings and fixtures.
Products
Yardley had been making beauty products for some time, including Lavender Cold Cream, Lavender Vanishing Cream, lipsticks and powder compacts. Although it continued to promote its soaps, perfumes and toiletries – many of which were based on English Lavender – the start to its modern beauty lines begins in 1929.
Beginning with the introduction of English Complexion Cream in 1929, by 1933, Yardley a comprehensive line of beauty products and organised them into a system of beauty care. In 1935, the company hired Mrs. Olive Cato to take charge of this area and began opening salons where beauty treatments using Yardley products could be carried out. In 1937, the property adjacent to Yardley house on Old Bond Street became available and the company purchased it and opened a beauty salon it in (Thomas, 1953). Yardley wisely used its lavender-based soaps as their 'foundation for beauty' but combined them with other products to promote the idea of an 'English complexion'.
Natural, young and lovely … an English Complexion.
Skin petal-soft, lips alive with color … an "English Complexion" is naturally, delightfully charming. To make its attractions yours, There's the simple beauty routine of fashionable women the world around—daily care with Yardley Aids to Beauty.
Initially, 'English Complexion' meant the complexion of English socialites and the aristocracy but by the 1940s the egalitarian effects of the war saw this morph into something more generalised.
An English complexion
The Yardley English Complexion beauty system of the early 1930s was a 3-step routine of cleanse, tone, and apply powder foundation – even though the company did not have a well-defined toner and used Lavender Water in its place. English Complexion Cream was used both as a secondary cleanser and a powder foundation, and also acted as a 'skin food' when used overnight.
To begin, there is Yardley's English Lavender Soap for shampooing the face and neck. Its cooling fragrance is a revelation. It is followed by Yardley's English Complexion Cream to complete the cleansing, to dislodge the impurities which seem to elude even the most penetrating lather. The cream is removed with a cotton pad saturated with lavender lotion or your own special astringent. Now your skin is ready for the second coating of English Complexion Cream, which remains on all night to soften and nourish the tissues.
In the morning, this same cream becomes your powder foundation. Let your skin absorb as much of it as it will; then wipe away the surplus with water and an ordinary wash cloth, or with cotton and tonic, or simply with tissues. Yardley's English Lavender Face Powder will cling perfectly to the fine invisible film that remains.
Also see the company booklet: A beauty secret from across the sea
Given that Yardley did not establish a beauty salon until 1937, it is interesting to ponder the origins of its ideas on skin-care. Although it is true that the Yardley system of beauty care was not out of step with practices of the time, many of its ideas may have come from W. A. Poucher. In 1926, before he began consulting for Yardley, he had published the book 'Eve's Beauty Secrets', which he suggested would "be of some assistance to women desiring to retain their beauty by means of the substances placed at their disposal by modern science" (Poucher, 1926). This is the only case I know of where an industrial chemist has put pen to paper in this way. Most of the ingredients described in Yardley's skin-care routine are there, soap and water, cleansing cream, skin foods and facial massage.
While it is impossible for any woman to lead a placid and uninteresting life free from all cares, yet it is within the power of all to spend five minutes each day upon a treatment that will, at any rate, retard the appearance of wrinkles, and materially assist nature in maintaining that roundness and firmness of the face so typical of radiant youth.
Olive Cato probably read Poucher's 1926 book 'Eve's beauty secrets' and, given that Poucher played a role in many of the new skin-care products developed in the 1930s, it seems likely that he also had a hand in the development of Yardley's skin-care system.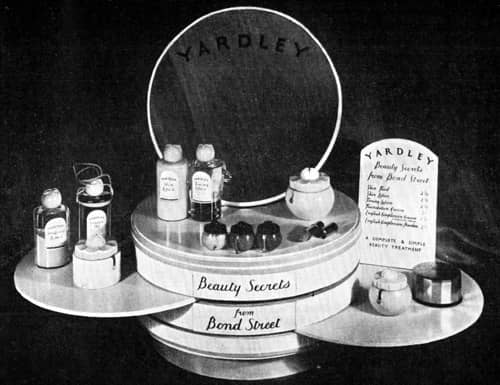 Skin types
Additional skin-care products added in the 1930s enabled Yardley's routine to be customised for dry, normal and oily skins. For example, the use of Lavender Water as a general toner was replaced with Yardley Toning Lotion for dry and normal skins and Yardley Skin Astringent Lotion for oily skins. There was also a greater range of powder foundations with the addition of Foundation Cream and Complexion Milk.
Lavender soap: "your first weapon in the battle to keep your beauty".
Liquefying Cleansing Cream: "seems to penetrate the dry parched condition and actually soften and remove the little flakes of surface matter".
Toning Lotion: "removes cream, stimulates all skins".
Astringent Skin lotion: "for that imperative refining and stimulation of the pores".
Skin Lotion: "for arms and neck".
Complexion Milk: "a skin lotion that also soothes and smooths … insures a day-long, smooth-as-silk finish to your powder".
Skin Food: "nourishes, rejuvenates".
Night Cream: "rich in beneficial oils that will actually retexture the skin while you sleep".
Foundation Cream: "your powder base".
Like another British cosmetics company, Cyclax, some preparations had multiple uses, which meant that their purpose was not self explanatory and this could create some confusion in the mind of the user. English Complexion Cream was the worst offender, being used as a cleanser and emollient on normal and oily skins, and a powder foundation on dry skins.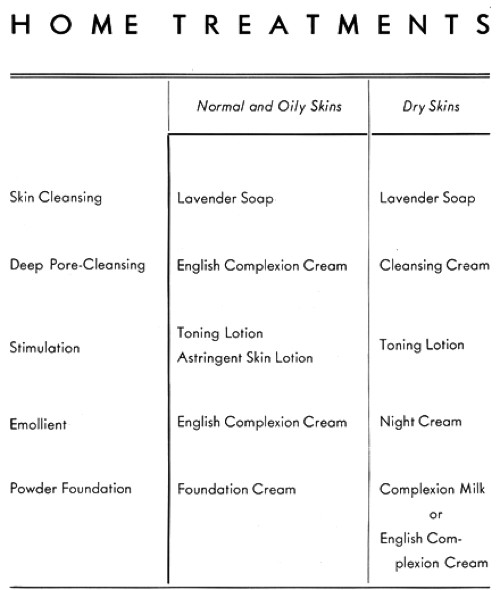 Also see the company booklet: Beauty Secrets from Bond Street
Make-up
The company also extended its range of make-up in the 1930s with new lipsticks, powders and eyeshadows in matching shades along with a very limited range of nail enamels. As far as I can tell they did not make a mascara at this time. In naming its colours, Yardley followed established terms or used names taken from nature.
English Complexion Powder: Available in specialized boxes depending on the perfume used i.e., Lavender, Bond Street, Orchis, Lotus, Jessamine or Fragrance. Shades: Natural, Rachel No. 1, Medium Rachel, Deep Rachel, Suntan (Rose Rachel), English Peach and Gipsy.
Rouge: Rouge Compact and Cream Rouge. Shades: Natural, Medium, Vivid, Cherry, and Poppy.
Lipstick: Shades: Natural, Medium, Vivid, Cherry, and Poppy.
Eye Shadow: Shades: Azure, Mist, Green-moss and Violet.
Nail Enamel: Shades: Natural (flesh pink) and Ruby.
Advice was available for clients that enabled them to match colours with their skin tone.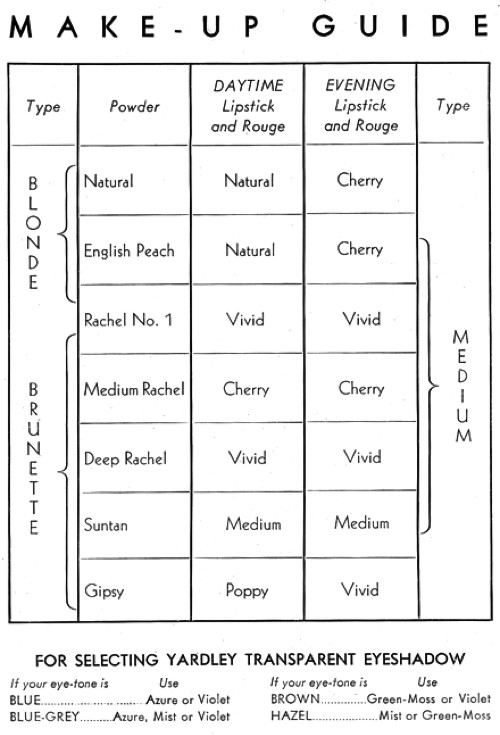 Other products included soaps, perfumes, toilet waters, dusting powders, bath salts, hair preparations, hand lotions and shaving creams.
Men's lines
Due to the English dominance in men's tailoring – based largely in Savile Row, London – men's toiletries, along with soaps and lavender products, were a traditional strength of the English perfume and toiletries industry; Paris may have been the centre for female fashion but the well-to-do male went to London to buy a suit.
Yardley had been selling men's toiletries for centuries with a range that included pomades, colognes, talcs, brilliantines and shaving soaps. Popular products from the 1930s and 1940s included a wooden shaving bowl (with included Shaving Soap), Hair Tonic, Invisible Talc (used as an after-shave) and After Shaving Lotion.
Second World War
Like other British cosmetic companies, the Second World War hit Yardley harder than its American counterparts. European supplies and markets were severed, factories were requisitioned, production restricted and assets bombed. In 1942, two floors at Carpenters road were requisitioned for the manufacture of aircraft parts and sea-water purification tablets while the box factory turned out aircraft flare tubes ans anti-radar devices. Thornton Gardner, at the request of the company director was relocated to New York as were some staff such as Reco Capey and Katharine Stone. The 1940 Board of Trade Concentration of Industries Order also meant that Yardley was manufacturing cosmetics for a number of other companies on its premises including Morny and Zenobia (Thomas, 1953).
In the United States, Yardley dropped its in-store demonstrators as a wartime measure in 1943, becoming the first large cosmetic house to do so. The company also reduced the shade range of its make-up lines. However, there were some new products such as a new hand cream (released in the U.S.A. in 1943) that had been originally created in England for women working in factories as part of the war effort.
Timeline
1770
Samuel Cleaver establishes the soap and perfumery business that will eventually become Yardley.
1823
William Yardley gains control of the Cleaver soap and perfumery business.
1841
Charles Yardley takes on William Statham as a partner to form Yardley and Statham.
1847
Yardley and Statham trademark registered.
1853
Gladstone removes the tax on soap.
1883
New factory built at Ridgmount Street, Bloomsbury.
1890
Thomas Gardner converts Yardley into a Joint Stock Company, Yardley & Co. Ltd.
1900
Yardley begins trading in Canada.
1904
New factory opened at Carpenters Road, Stratford, London.
1905
Yardley opens its first overseas wholesale outlet in Pitt Street, Sydney, Australia.
1908
New Products: Stick Shaving Soap.
1910
Display and retail sales shop opened at 8 New Bond Street, London.
1913
Yardley purchases an engraving of Francis Wheatley's 'The Flower-sellers'.
1920
Yardley converted into a Public Limited Liability Company.
1921
Yardley & Co. Ltd. New York established at 15 Thirty-Sixth Street, New York.
Yardley receives its first Royal Warrant from the Prince of Wales.
1923
Yardley & Co. Ltd. Canada established in Toronto.
New York office moves to Madison Square
1924
Yardley purchases the French perfumery Viville, which operates as Viville-Yardley.
1927
Yardley sales offices and showrooms moved to Pollen House, 10 Cork Street.
W. A. Poucher engaged as consulting chemist and perfumer.
1928
Reco Capey joins Yardley to become its Art Director.
Perfume laboratory and art studio established in Pollen House.
1929
William Poucher joins Yardley to become its perfumer-chemist.
New Products: English Complexion Cream.
1931
Yardley's London retail showrooms moved to Yardley House at 33 Old Bond Street, London.
1932
UK spirit duty on alcohol used in perfumes and toilet waters removed.
Yardley receives a Royal Warrant from Queen Mary.
1933
Yardley New York sales office and showrooms moved to the Rockefeller Center.
London headquarters moved to Sackville House, Piccadilly.
1934
New Products: New formula Yardley Lipstick.
1936
New Products: Liquefying Cleansing Cream.
1937
Yardley opens a beauty salon in a building adjacent to Yardley House in Old Bond Street.
New Products: English Complexion Powder; new formula Eyeshadow.
1938
New box making factory opens in the High Street, Stratford.
1939
Yardley subsidiary established in Australia.
1940
Yardley ordered to remove 'English' and 'London' from U.S. products by the U.S. Federal Trade Commission.
Continued to: Yardley (post-1945)
Updated: 18th April 2017
Bouillette, P. L. (1955). William A. Poucher, the pioneer. The Journal of the Society of Cosmetic Chemists. VI(1). 69-74.
Jones, G. (2010). Beauty imagined: A history of the global beauty industry. Oxford: Oxford University Press.
Katharine Bertram (2015). Retrieved October 28, 2015, from http://www.katharinebertram.com
Lis-Balchin, M. (2002). Lavender: The genus Lavandula. London: Taylor & Francis.
Poucher, W. A. (1926). Eve's beauty secrets. London: Chapman & Hall Ltd.
Poucher, W. A. (1932). Perfumes, cosmetics and soaps (4th ed., Vols. 1-2). London: Chapman and Hall Ltd.
Smith, R. (2008). A camera in the hills: The life and work of W.A. Poucher. London: Frances Lincoln Ltd.
Thomas. E. (1953). The house of Yardley 1770-1953. London: Sylvan Press.
Yardley & Co. Ltd. (1937). Beauty secrets from Bond Street [Booklet]. London: Author.