By the late 1930s, Richard Hudnut's Du Barry line was in the doldrums with sales estimated to be less than two million dollars annually (Drug and Cosmetic Industry, 1944, p. 419). In the hope of improving this situation Gustavus A.Pfeiffer [1872-1953], the president of William R. Warner, decided to revisit an idea first suggested to him by the G. Lynn Sumner advertising agency in 1931 – a beauty correspondance course.
G. Lynn Sumner
The G. Lynn Sumner advertising agency was a New York-based company established in 1925. The president of the firm, G. Lynn Sumner, describes the events leading up to the original proposal made to Gustavus Pfeiffer:
In 1931, Mary Brooks Picken, a vice-president of our advertising agency, was returning from Europe, and on shipboard she made the acquaintance of Mr. G. A. Pfeiffer, president of Richard Hudnut. In the course of shipboard conversations, he told her that the firm was interested in finding some new way to promote the DuBarry [sic] line and any suggestions would be welcome. Back in New York, Mrs. Picken reported the discussion, and together we went to work on a plan. As a result of our experience at the International Correspondence School and the Women's Institute, we had long felt that there was an opportunity for some cosmetic manufacturer to promote its goods by teaching women at home to improve their personal attractiveness. Mr. Pfeiffer's invitation looked like the perfect chance for developing the idea.
We worked out a complete program for a six-week's course, with a lesson for each day. The plan provided that the manufacturer would supply the course with enough beauty and make-up preparations so that the student would be able to use them exclusively for the six-week period. Our theory was that if a woman used one group of beauty preparations exclusively for six weeks and during that time received instructions for using them correctly, she would be aware of such beneficial results that she would become a regular customer. The course would be sold at a price sufficient to pay for the lessons, the instruction, the preparation, and the cost of promotion. Thus it would finance itself.
As well as the low sales figures, there was another factor that led G. A. Pfeiffer to revisit the idea of marketing Du Barry through a correspondence course. By 1939, Richard Hudnut was running the Richard Hudnut Success School in its New York salon on Fifth Avenue, and it was doing very well.
Success School
The Richard Hudnut Success School started out as a Debutant School for young women in need of 'conditioning' for their big 'coming out' event. For US$200, they were put through a six-week course covering weight control (streamlining), deportment, fashion, make-up, hair and nail-care. Mothers of the 'made-over' debutants were generally pleased with the results and began requesting something similar for themselves. This led to the development of a program for more mature women, promoted as the Richard Hudnut Success School.
Many of the ideas and routines used in the Richard Hudnut Success School had been in place in other New York salons for years. Body conditioning as a beauty regime goes back to the Physical Culture movement of the nineteenth century but it was Elizabeth Arden who first introduced physical exercise and diet regimes into New York beauty salons. Arden's new salon at 691 Fifth Avenue, opened in 1930, had an entire floor dedicated to exercise and diet. Exercise and diet were also a key part of the beauty program at her Maine Chance health farm which opened in 1934. Gaylord Hauser [1895-1984] – a celebrity nutritionist of the 1930s – created light-diet menus for Arden's clients who also took yoga and other exercise classes in programs overseen by director Ann Delafield. After the strenuous part of the program, clients relaxed on 'Tilt Boards' which were supposed to stop the face becoming gaunt when the rest of the body lost weight.
Ann Delafield
Ann Delafield – whose real name was May MacGregor – came to America in the early 1920s as an actress in a touring company before applying for American citizenship in 1925. For some reason she exchanged her acting career for one that focused on diet, exercise and general deportment.
After working as the director of the gymnasium at Arden's salon in New York for seven years, Delafield presumably got fed up with Arden's constant interference and took a position with Richard Hudnut sometime around 1935. At first she worked in the Debutant School but later became director of the Richard Hudnut Success School and then the Du Barry Success Course. Her acting experience proved useful when she promoted the Richard Hudnut Success School or the Du Barry Success Course in short films, or in radio and television broadcasts.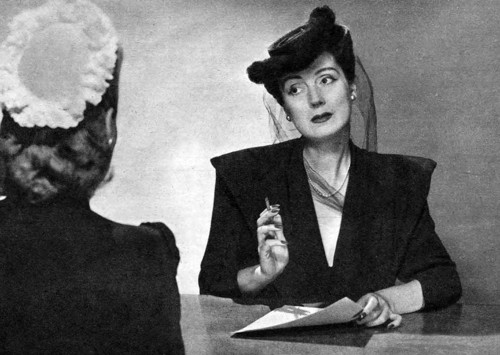 The 'Tilt Boards' used in Arden's salon appear to have been based on an idea from Gayelord Hauser. Delafield bought the idea with her when she moved to Richard Hudnut, where it was publicised as the 'Beauty Angle'. She later took out two patents covering the idea, both of which were assigned to Richard Hudnut; the first, in 1949, for a rocking device (US: 2,475,239); the second, in 1950, for a reclining board (US: 2,533,273). The second patent covered the 'Beauty Angle'.
Success Course
Although the Richard Hudnut Success School was profitable, there were physical limits to the number of clients it could take. To increase the number of participants – and number of women using Du Barry cosmetics – G. A. Pfeiffer wanted to know if something could be developed that was similar to the Success School that women could follow at home. Mary Brooks Picken sat in on some of the classes given by Ann Delafield and others and then, with the agreement of G. A. Pfeiffer, the G. Lynn Sumner advertising agency set about constructing the Du Barry Success Course modelled on the Richard Hudnut Success School.
In the months that followed, a special staff of writers, artists, and editors produced a new kind of home course, one that would virtually take Salon methods into the home. Stenographers took down Miss Delafield's talks to her classes, while artists sketched exercise and make-up teachers as they demonstrated each movement. The result was a radical departure from conventional lesson plans. Each day's instructions were given through the "spoken" rather than the written word, and more than 1,000 pictures showed the student exactly what and how to do it.
Course structure
The Du Barry Success Course was made up of 36 daily lessons – one for each week-day over a six-week period – and four special lessons including one for Sundays.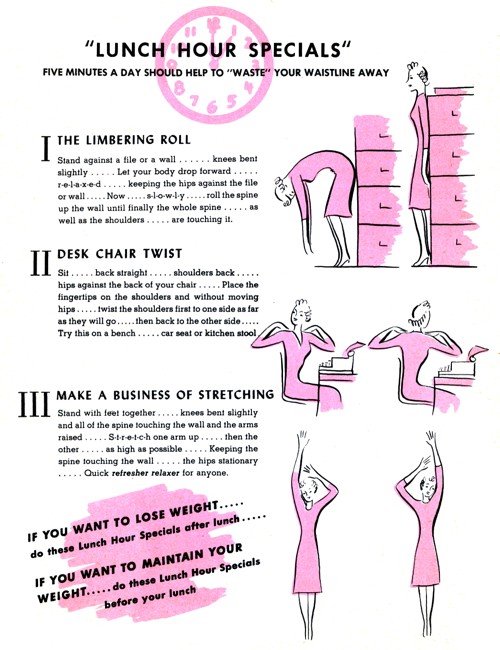 They were delivered by mail on a weekly basis, although clients could elect to have them sent in a single lot. The course was a mixture of positive thinking, physical exercises, deportment, diet, fashion tips and make-up classes. A number of aspects of it are of particular interest.
Beauty Case
A complementary Beauty Case containing Du Barry skin and make-up preparations came with the course. Some Du Barry distributors were unhappy about this seeing it as a disguised direct sale from which they did not get a return; however, the company saw it as a high-class product sample promotion that would introduce new clients to the Du Barry product line leading to repeat business (Drug and Cosmetic Industry, 1944, p. 419).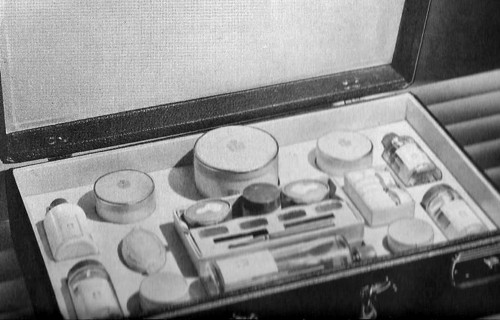 I imagine that the cosmetics provided to each participant were adjusted according to what each person stipulated as their skin type and colouring. The package underwent some refinements, including the replacement of the costly case first with a box and then a tray. Hair care products were also added when these became more important to Richard Hudnut after the Second World War.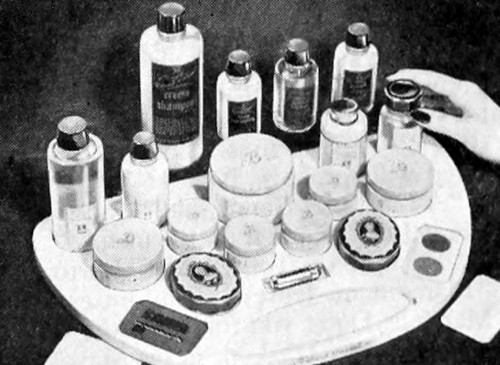 In 1950 – possibly in response to reduced enrolments – the course was split into two price points: Plan A at US$12.50 full payment, that only came with the Du Barry Special Cleansing Preparation, Cleansing Cream and Skin Freshener (enough product to complete the morning essentials of the Beauty Ritual); and Plan B at US$28.50 full payment, that included twenty Du Barry and Richard Hudnut, skin-care, make-up and hairdressing preparations.
Beauty Routine
The Du Barry Beauty Routine was a daily ritual introduced in the first week of the course. The morning routine began with Du Barry Cleansing Cream to 'remove dirt and grime' followed by Du Barry Skin Freshener to 'stimulate the skin' after which Du Barry Foundation Lotion was applied to 'shield the skin from the elements' and form a basis for powder. At night, a richer cream was applied to 'work wonders while you sleep'.
By entrenching this routine into the course over the six-weeks Richard Hudnut hoped for continued sales of its skin-care lines and to increase the amount of each product consumed as participants were taught to apply up to 48% more product than they used previously (Drug and Cosmetic Industry, 1944, p. 419).
The Beauty Angle
As mentioned earlier the 'Beauty Angle' was a reworking of the 'Tilt Boards' Ann Delafield used in Arden's salon to keep the face looking firm while weight was lost from the rest of the body.
Keystone of our whole SUCCESS COURSE, as you will presently discover, is the famous DuBarry [sic] Beauty Angle Face Treatment … the development of which has radically changed our whole conception of the treatment for beauty. It's one of the reasons why you can drop pounds and inches and emerge with a face that seems smooth and firm … a neck that looks younger than it has in years.
An exclusive feature in our Salon as an integral part of every face treatment, it is a daily treat in your SUCCESS COURSE. You spend a few minutes a day in the Beauty Angle Position, lying with your feet higher than your head, with your body at a 40-degree angle so that life-giving, fresh, tissue-building blood can rush to your face, neck and the upper portions of your body, nourishing the skin cells naturally from within, as DuBarry [sic] Beauty Preparations cleanse, smooth and soften from without.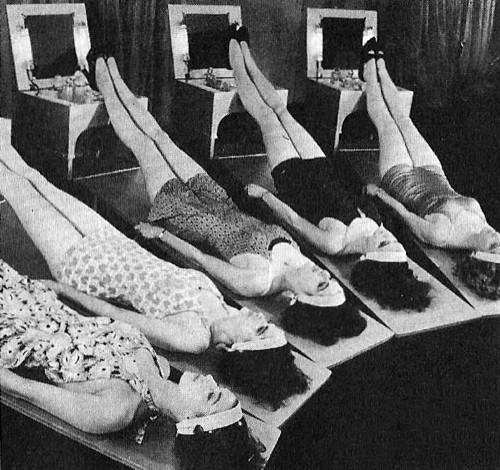 At home it was suggested that women simply put their feet up on the footboard of their bed but some women put their ironing board to good use to get the required 40° angle.
Color-Scope Chart
The course placed a good deal of effort into helping women select clothing and make-up colours that best suited them. Participants were provided with differently coloured tissue capes to try on so that they could judge which colours suited them best. These were later replaced with squares of colour held up to the face in bright light. Women could also take fabric samples and do the same thing, the idea being to choose colours that best suited to them rather than those that just appealed to them. Size, climate and occasion were also considered when choosing apparel and make-up.
Once a colour was selected that best suited her hair colour, eye colour and skin tone, a woman could then use a Color-Scope Chart to identify the appropriate Du Barry make-up. Two examples are given below:
Sky Blue . . . . . . Light Blue
Use DuBarry Peppermint Pink or Rose Cerise Lipstick, Cream Rouge, Compact Rouge.
DuBarry Peach or Champagne Beige Face Powder.
Blue or Blue Mist Eye Shadow. Black Lash Beauty.
Rose Cerise with Champagne Beige is the preferred combination for this color – Peppermint Pink with Peach Powder when a lighter make-up is wanted. …
Red Glow . . . . . . Rich True Red
Use DuBarry Carmeen or Emblem Red Lipstick, Cream Rouge, Compact Rouge.
DuBarry Rachel #2 or Special Rachel Face Powder.
Brown Eye Shadow. Brown Lash Beauty.
Rachel #2 Powder to tone down color in skin – Special Rachel when a little pink is needed to brighten the skin. Carmeen or Emblem Red can be used with either shade of face powder.
Medical profession
Although not specifically backed by the American medical profession the course was approved for advertising in the Journal of the American Medical Association (JAMA) which was viewed as a form of endorsement. Before commencing the Success Course, Richard Hudnut recommended that women undergo a health check from their doctor and the enrolment application included a section for the doctor to fill in. This made the course look more professional and provided the company with some margin of safety. To help get doctors onside, their wives were offered a free package of Du Barry face powder, lipstick and lipstick brush and, along with the physician's daughter, nurse or secretary, wives could do the course for half price.
Contest
A large number of advertisements for the Du Barry Success Course used 'before and after' photographs often coupled with a table listing 'before and after' measurements and the difference between then. Early photographs were taken of clients from the Richard Hudnut Success School who agreed to be used in advertising but this was later replaced by Achievement Award winners selected through a competition. Four times a year Richard Hudnut announced a contest for clients who had enrolled in a specific three-month period. The three winners were then brought to New York and were put up at the Waldorf-Astoria hotel for a week. During this time they did some post graduate work at the Richard Hudnut Salon, were treated to theatre shows and night clubs, and made radio and television broadcasts.
The student must submit a photograph taken at the time she started the course and a complete set of her measurements, and submit similar evidence after she had reached her goal of achievement. She was asked to send a complete story of what she had accomplished and how the course had helped her in social, business or professional advancement. And in entering the course she must agree that if she should be one of the three winners, she would give permission for the publication of her story and photographs in extending to others the work of the DuBarry [sic] Success Course.
The contest therefore provided Richard Hudnut with a regular supply of advertising copy.
Reception
The Du Barry Success Course was first advertised in February 1940 and soon became a major money making concern for Richard Hudnut. By 1944, some 165,00 courses had been sold at about US$20 each, netting the company nearly US$4,000,000 in just three years. Along with longer waiting lists for the Richard Hudnut Success School in the New York salon, sales of the Du Barry line were also lifted to nearly US$8,000,000 annually, a four-fold improvement widely attributed the Success Course (Drug and Cosmetic Industry, 1944, p. 419).
Although the course was well-constructed, well-administered and widely advertised, part of the reason for its success may have been due to the time in which it was introduced. America entered the Second World War in December, 1941 and, as new employment opportunities opened up, many women were willing to undergo a fairly intensive regime to 'get in shape' and become more stylish.
Closure
In 1945, Elmer H. Bobst [1884-1978] became William R. Warner's new company president. Bobst instigated a review of the William R. Warner and then made major management and structural changes to the business. Supported by Charles Pennock [1892-1985] – the executive responsible for the development of the Richard Hudnut Du Barry line – Bobst viewed the Du Barry Success School and the Du Barry Home Success Course as unprofitable and by the early 1950s had closed them down.
See also: Richard Hudnut
Ann Delafield was well aware of the developing situation and expressed her frustration with the changes in a letter to her friend Mrs. Doris Henry in Los Angeles, California.
Frankly, I am discouraged with everything in regard to my business these days. Not that my business isn't good, as usual it is superb, but the working conditions under which I now find myself with the new president and completely new management are unpleasant to say the least.
Charlie Pennock has convinced the brand new management that the Success School has not been important to the DuBarry line at any time nor contributed anything to his success in the past ten years. And, frankly, the idea of having to re-educate this whole bunch of men into the facts of life bores me to say the least.
Under the circumstances, I wont be able to take any vacation as such this year. … If you hear of anyone who has a couple of million dollars to invest, please let me know.
Fortunately for her, Delafield found an investor in the Rexall Drug Company which helped her to develop some weight-loss and cosmetic lines that were sold through Rexall Drug Stores.
See also: Ann Delafield
Updated: 20th November 2017
Sources
Cinderella story: Beauty through health is the theme of "Du Barry success magazine". (1945). Tune In. 3(4), 34-35.
Drug and Cosmetic Industry. (1944). 55(4), 419.
Delafield, A. Letter to Doris Henry. 31 July 1947. New York.
Richard Hudnut. (1942). Six weeks from tonight [Brochure]. USA: Author.
Richard Hudnut. (1945). Du Barry success course [Materials]. USA: Author.
Sumner, G. L. (2009). How I learned the secret of success in advertising (Classics Ed.). USA: The Malonson Group LLC.