Richard Alexander Hudnut was born in Philadelphia in 1856 but as his family moved to Brooklyn soon after his birth he attended schools there, later enrolling at the Brooklyn Polytechnic Institute. While Richard was growing up his father, Alexander Hudnut [c.1830-1900], operated a series of drug stores, first in Court Street, Brooklyn, then on the junction of Fulton and Washington Streets. The Court Street drug store opened in 1855, the year before Richard's birth, so it is possible that Alexander's wife, Margaret Parker, remained in Philadelphia until Richard, the first of six children, was born, or until Alexander had established the business in Brooklyn and secured suitable accommodation. The family lived in Brooklyn while Richard was growing up but later built a new home in Llewellyn Park, West Orange, New Jersey where they remained until 1889.
In 1867, Alexander Hudnut opened a pharmacy in the new Herald Building on the corner of Ann Street and Broadway erected in 1866 on the site of the Barnum's Museum which had burnt to the ground in 1865. Alexander inaugurated the idea of the all-night drug store and Hudnut's Pharmacy soon became the meeting place for night-owls including newspaper reporters, actors and drama critics who selected drinks from one of the largest soda fountains installed in New York. The fame of the pharmacy was further enhanced when Alexander hung a boxed-in thermometer at the front of the pharmacy. This was used for 'official unofficial' temperature readings for New York by various newspapers and made Hudnut's Pharmacy a household name.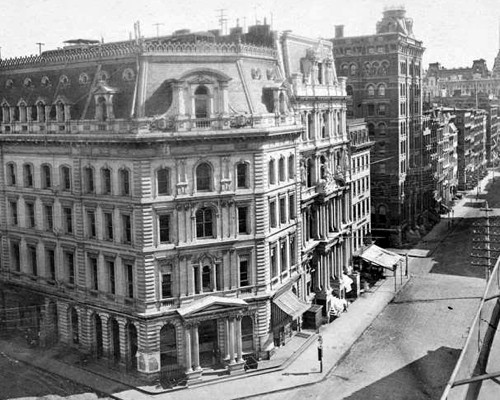 In 1873, aged 18, Richard Hudnut joined his father's business. Some have suggested he had been to Princeton but this seems incorrect, possibly stemming from confusion with his younger brother William who graduated from Princeton College in 1886 (Wessell, 1961, p. 156). Exactly how or why he began to make scents for his father's pharmacy is unclear. His brother William notes that Alexander Hudnut played no part in their development and Richard's first fragrances, released in 1880, were formulated before he had visited France to see first-hand how things were done in Grasse.
In 1899, Alexander Hudnut's health began to fail and by the end of the year he had sold his pharmacy business to the Hudnut & Hegeman Consolidated Drug and Chemical Company. However, by this time Richard was independent, having established his own pharmacy uptown at 925 Broadway, New York in 1892.
Although the original Hudnut's Pharmacy was demolished when the Herald Building was pulled down in 1895 to make way for a 25-storey skyscraper, the new owners reopened it in another alternative location. This meant there were two Hudnut businesses in New York for many years, one operated by Richard Hudnut uptown at 925 Broadway, the other downtown at 207 Broadway owned by Frederick F. Anness and George H. Bancroft. The two firms seemed to co-exist quite amicably, a situation made easier by the fact that Richard did not advertise widely. Apart from some trade promotions and the occasional placement by agents or stores who carried his products in other American cities, there is little mention of his wares in the press until 1914.
One reason why Richard Hudnut desisted from advertising broadly was to give his perfumes and cosmetics an air of exclusivity. Rather than use newspaper or magazine advertisements he distributed booklets to prospective customers that contained details of his various preparations. In addition, to stop the line being 'cheapened' by discounting, he employed a strict price maintenance policy and all retailers that carried his products had to sign an agreement to that effect.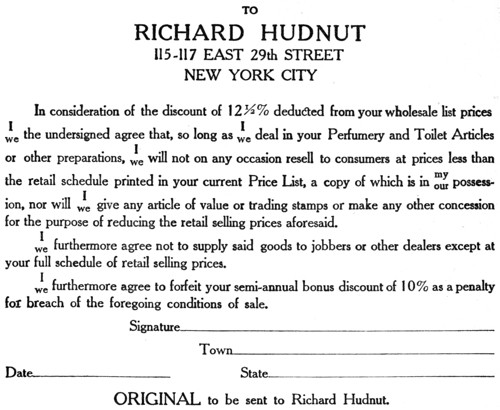 By 1900, Richard Hudnut had built up a sizeable range and his products were being sold across the United States. As well as perfumes, toilet waters, cologne waters, sachets and scented tablets, hair preparations, tooth powders, tooth washes, soaps and a pasta mack, there were also toilet and face powders (White, Flesh and Brunette shades), skin creams and other assorted cosmetics.
Toilet and Face Powders: Violet Superba, Peau d'Espagne, Wood Violet, Extreme Violet, Hudnutine Rice, Orchid Beauty Powder, Hudnutine Face Powder, Extreme Violet Talcum and Orchid Beauty.
Skin Preparations: Violet Toilet Cerate, Hudnutine Toilet Cerate, Violet Almond Meal, Crystal Camphor Ice, Prepared Cocoa Butter, Milk of Cucumber and Orris, Cucumber Cold Cream, Concrete Tincture Benzoin, Toilet Cerate Gloves.
Other Cosmetics: Eyebrow Pencil, Floro Vegetal Extract, Nail Powder.
Hudnut made some attempt to develop the brand name 'Hudnutine' as in Hudnutine Face Powder, Hudnutine Rice Powder, Hudnutine Toilet Cerate, Royal Hudnutine Toilet Water, Hudnutine Tooth Paste and Hudnutine Tooth Wash but in general he followed the perfume tradition which based names on a key ingredient or extract in the cosmetic.
By 1905, it was evident that the company needed to expand its operations. Land was acquired at 115-117 East 29th Street, the two old two-story dwellings on it was demolished and, by 1906, a new six-story building containing manufacturing space, offices, shipping areas and a pharmacy/showroom had been built on the site. Then, in 1909, the company incorporated.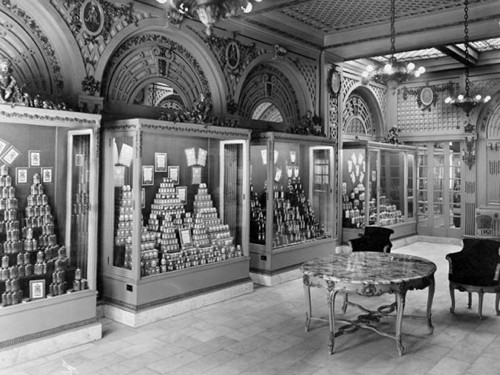 Early cosmetics
Richard Hudnut's primary interest was in making perfumes equal to those produced in France. However, knowing that price was also important he helped – through his chairmanship of the Committee of Importations and Undervaluations for the Manufacturing Perfumer's Association – reduce competition from foreign perfumes by securing legislation that allowed raw materials for perfumes into the United States to be free from tariff but increased the duty on overseas manufactured perfumes.
Skin Creams
Early Richard Hudnut skin creams included cerates, glycerine creams, cucumber creams. By 1915, many of these were replaced with cold and vanishing creams, bringing his products more into line with other companies like Pond's.
Marvelous Cold Cream: "Marvelous Cold Cream has all the qualities most sought by fastidious women as an innocent unguent of rare effectiveness in soothing, healing and beautifying the skin. It will keep indefinitely without change and, entirely free from glycerine, is guaranteed not to promote the growth of down."
Cucumber Cold Cream: "This preparation has a base of the finest Sweet Almond Oil, rarely employed by manufacturers on account of its high cost. It may be described as purely vegetal in character, entirely free from the mineral oils so generally used today in cold creams."
Milk of Cucumbers and Orris: "Milk of Cucumbers and Orris contains a minute percentage of fatty matter, and even this is neutralized to such an extent as to make it, par excellance, the best of all liquid skin improvers, not only for oily skins, but for general day time use to soften and soothe the skin before applying powder, etc."
Crême Violet Sec: "It contains no oily matter whatever, consequently it is most cleanly in use, and, being instantly absorbed by the skin, leaves no apparent trace."
Toilet Cerate: "This most useful preparation is readily absorbed by the skin, and owing to this and certain other characteristics, it is particularly adapted to use as a massage cream, while as a general healing application to the skin when burned, irritated, chapped, inflamed, etc., it has no superior."
Marvelous Cold Cream was a mineral-based cold cream which could be used as a cleanser, skin protectant or powder base; Cucumber Cold Cream was an almond oil-based cold cream with a shorter shelf life for use on injured or more delicate skins; Milk of Cucumbers and Orris was a skin protectant and powder base for oily skins; Violet Sec Crême was glycerine-based and suggested for oily skins or skins that were inclined to be dry; while Toilet Cerate was marketed as a skin protectant.
See also: Cerates, Glycerine Creams and Jellies, Cold Creams and Vanishing Creams
Make-up
By 1915, Richard Hudnut's range of face powders included Du Barry, Sweet Orchid, Gardenia, Violet Superba, Royal Hudnutine and Violet Sec. They all came in the same shades – White, Natural, Rose and Brunette – and I expect that there was little or no difference in their formulation apart from the fragrance used to scent them. He also made Blanc Mondain, a compact powder in White, Natural, Rachel, Rose and Electrique (violet-tinted for use by blondes at night) shades, and Orchid Beauty White, a cream liquid white in White, Flesh and Brunette shades.
Orchid Beauty White: "A harmless, instantaneous beautifier for the face, neck and arms suited to the requirements of society women who do not want exaggerated effects. It suffices to apply the cream with a small sponge and when dry, to rub the skin gently with a soft cloth or piece of chamois leather." Shades: White, Flesh, Brunette.
See also: Liquid Face Powders
The Hudnut range of rouges included: Liquid Rouges – Permanent Rose Tint (Rose) and Liquid Face Rouge (Carmine); Dry Rouges – Rouge Mondain (Brunette), Rouge Mandarine (Orange), Vanity Rouge, Theatre Rouge and Modern Rouge (Brunette); and Rouge Leaves. Hudnut also sold Stick Rouges for the lips – Violet Sec Lip Rouge and Permanent Lip Rouge – which suggests that he was one of the first American cosmetic manufacturers to make what we would now call a lipstick. He may also have been one of the first American cosmetic manufacturers to packaged his lipstick in a metal push-up case.
Eye make-up was largely absent from Richard Hudnut's product range. As far as I can tell he did not make a mascara/water cosmetique at this time and only sold Eyebrow Crayons in shades of Black, Brown and Chestnut. This is understandable given that eyebrows were then considered a more important facial feature than eyelashes.
see also: Water Cosmetique (Mascaro)
Manicure preparations
These included Nailustre, Nailstic, Marvelous Nail Polish, and Hudnut's 1913 Nail gloss which, if I was to guess, would indicate that he made powder, stick and liquid powder polish and possibly a nail lacquer as well. He also made a Rouge Pomade to colour in the nail plate pink and Cuticle Acid, an acid-based cuticle remover (using oxalic acid) common at the time but later superseded by alkaline forms made from sodium and/or potassium hydroxide.
See also: Nail Powder Polishes and Liquid Nail Polishes
Pharmacy closes
In 1911, in response to demand, manufacturing space at 115-117 East 29th Street was more than doubled and two floors of the Bush Terminal Building on East 29th Street – with its fully equipped, motor-truck delivery service – were rented for stock storage and shipping. The following year a branch office was opened at 22 Rue Augustine, Paris.
The Richard Hudnut Pharmacy at 925 Broadway was shut down in 1914 and the furniture, fittings and stock were sold at auction to the C. & C. Pharmacy of Williamsburg. This enabled the firm to concentrate on manufacturing and ended Richard Hudnut's direct interests in pharmacy. Then, in 1916, most of the stock in the company was sold to H. Pfeiffer, G. A. Pfeiffer and G. D. Merner of William R. Warner & Co. Although initially reaffirmed as president, Richard Hudnut soon retired and the presidency then passed to G. A. Pfeiffer.
William R. Warner
William R. Warner was headquartered in Philadelphia but after buying Richard Hudnut the company abandoned a new building under construction there and purchased the former Altman Building at 110-125 West 19th Street, New York along with some adjacent property and then moved to New York City in 1917. The building at 115-117 East 29th Street was leased from Richard Hudnut but it eventually became surplus to requirements and Richard sold it in 1920 through the Hudnut Realty Co. established by him some years previously.
A new Richard Hudnut perfume shop was opened in December 1916 at 400 Fifth Avenue but as this occurred only a few months after the sale of the company, negotiations for its development may have been in the pipeline before the sale of the business took place;. The store was subsequently moved to 392 Fifth Avenue in 1921.
The hiatus brought on by the First World War and the post-war slump of the early 1920s was followed by a period of growth. A more secure European presence was established with the construction of a laboratory/factory at Surenes, Paris in 1925 – which produced products that were cheaper to make in France – and by the opening of a retail outlet at 20 Rue de la Paix, Paris in 1927. A new eight-storey factory and loft building was developed at 133 West 18th Street, New York and by 1930, the company had factories, branch offices or agencies throughout Canada and Europe as well as in Mexico, South America, Cuba and the Far East (AP&EOR, March 1930).
Product lines
Richard Hudnut regarded himself as a high-class perfumer rather than a pharmacist or cosmetic chemist and looked to France for inspiration. This helped determine the way he did business – the lack of advertising, the use of price maintenance and the move to uptown New York – and the products he produced.
It was common practice for perfumers to create a range of scented toiletries and cosmetics, such as a toilet waters, sachets, talcums, face powders, soaps or bath salts, all based on a common fragrance. Richard Hudnut followed this tradition and used a number of his perfumes to produced small lines. Some French perfumers like Guerlain and Bourjois also made and sold cosmetics, particularly make-up, and Richard Hudnut did this as well; for example, his Violet Sec perfume released in 1896 was, by 1915, incorporated into a sachet, toilet water, soap, bath salts, talcum powder, face powder, toilet rice powder, leaves, almond meal, lip rouge and face cream. Again, following the lead of French perfumers like Dorin, Richard Hudnut also produced compacts and other accessories designed for discerning clients.
The new owners of the company continued this tradition through much of the 1920s, displaying 'Richard Hudnut Perfumer' or 'Richard Hudnut Parfumeur' at the bottom of much of their advertising. Additional perfumes were created – presumably by Hudnut's resident perfumer, Henry G. Dusenbury – and a number of limited lines containing items such as perfume, toilet water, bath salts, face powder, talcum and rouge with accompanying compacts and chatelaines were created from some of them; the Deauville line begun in 1924 and the Le Début line started in 1927 being cases in point.
However, as the beauty industry boomed in the United States during the 1920s it must have become increasingly clear that a wider range of cosmetics was needed. Some progress was made in this regard with extensions to the Three Flowers and Du Barry lines but when you look at a Richard Hudnut brochure from 1927 it seems clear that the company's cosmetic items were still limited and those that it sold were a bit of a mishmash:
1. Three little jars for exquisite care of the skin:
Three Flowers Cleansing Cream — every night and after any dusty, fatiguing experience.
Three Flowers Skin and Tissue Cream — every night to nourish the skin.
Three Flowers Vanishing Cream — every morning and always before venturing out—to protect the skin and hold the powder smoothly.
2. For special cases:
Richard Hudnut's Almond Meal — to remove blackheads, and use on sensitive skin in place of soap.
Concrete Tincture of Benzoin — a tonic astringent to close enlarged pores.
3. For beautiful arms, soft elbows and smooth white hands:
Three Flowers Lotion — every time you wash your hands—to protect their softness and delicacy.
Milk of Cucumbers and Orris — a creamy lotion to whiten and soften arms and hands.
Orchid Beauty Cream — a clinging liquid powder and a velvety powder base for evening; in white, flesh, brunette.
4. To brighten Madame's beauty:
Face Powders — in white, naturelle, rose, brunette and Parisian (Dark Brunette). Scented with Plaza, Deauville, Du Barry, Sweet Orchid or Gardenia.
Three Flowers Compact Rouge in dark, medium, light, orange, nasturtium, carmeen, crimson, geranium, stage and natural.
Three Flowers Compact Powder in white, naturelle and brunette.
Lipstick
Three Flowers Lip Stick in Shade No. 24 (Cherry Red), carmeen, crimson and orange.
Three Flowers Twin Lip Stick and Eyebrow Pencil in the desired shades.
DuBarry Tandem Lip Stick and Eyebrow Pencil in the desired shades.
Eyebrow Crayons
Black, brown and chestnut.
Eyebrow Pencils
Black, brown and chestnut.
By the early 1930s this situation had changed somewhat. A salon had been opened at 693 Fifth Avenue, New York in 1931 and four reasonably sized cosmetic lines were in production – Three Flowers, Gemey, Du Barry and Marvelous; each was based on a perfume, three of which were developed prior to 1916.
Reading through the development of each of these lines one should perhaps take note of the words of Elmer Holmes Bobst [1884-1978] who became president of William R. Warner & Company in 1945. "The business was dominated by cosmetic cooks. They built their products on the basis of sight, smell and feel. They had no regard for the needs of the skin and hair" ("Corporations: Life begins at 60," 1952). Although he is probably overstating the case I think it partially explains many of the deficiencies in the skin-care products of the company, the comparative strength of the make-up lines, and the willingness to allow considerable duplication between a number of lines differentiated largely by scent. If the company had produce a single comprehensive skin-care and make-up range – as was largely the practice at the salon-based cosmetic companies like Elizabeth Arden, Helena Rubinstein or Dorothy Gray – things would have been a lot simpler and more tightly focussed.
Three Flowers
The Three Flowers perfume (1915) was one of the cheaper perfumes in the Richard Hudnut range and, after going out of production, it reappeared in 1923 when many of the products that made up this line were probably introduced. As well as the usual perfume, toilet water and sachets, the range included skin-care cosmetics and make-up. Products available around 1930 included:
Three Flowers Cleansing Cream: "Penetrates the pores, entirely clears them of the day's dust and grime, and leaves the skin soft, smooth and fresh."
Three Flowers Skin Freshener: "To remove excess cream and close the pores."
Three Flowers Skin and Tissue Cream: "Nightly use of this tissue cream, after skin has been thoroughly cleansed with Three Flowers Cleansing Cream will keep the tissues and pores of the skin in a vigorous condition and ensure firm, youthful contours."
Three Flowers Vanishing Cream: "The mission of the cream is to protect and finish. Apply lightly to the face and all the shine is gone, all the little roughnesses have vanished. Now the powder will cling evenly, softly, for hours, to the velvet-smooth surface of your skin."
Three Flowers Face Powder: "One may obtain in Three Flowers Face Powder a tint for every complexion. It is caressing to the skin, and in so fortunately blended that it combines lightness for the preservation of the skin, and body to ensure a lasting effect." Shades: White, Natural, Rose Brunette and Parisian (dark brunette).
Three Flowers Compact Powder: Shades: White, Natural and Brunette. A silver finish became available in the 1930s.
Three Flowers Cream Rouge: Shades: Carmeen, Crimson and Cherry.
Three Flowers Compact Rouge: Shades: Dark, Medium, Light, Orange, Nasturtium, Carmeen, Crimson, Geranium, Stage and Natural.
Three Flowers Lip Stick: Shades: Cherry Red, Carmine, Crimson and Orange. Three Flowers Eyebrow Pencil: Shades: Black, Brown and Chestnut.
The line was priced more cheaply than either the Gemey or Du Barry ranges and although it was well promoted in places like Australia it received less attention in the United States.
Gemey
Based on the Gemey perfume (1924), this line originated in France and was reputedly available there from around 1929 before being released into the United States in 1931.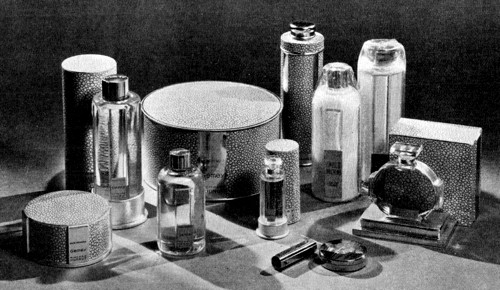 Promoted as a prestige Parisian line, the range started out with a perfume and toilet water along with a face powder, lipstick and rouge with the only skin-care cosmetic offered being Cucumber Cleansing Lotion.
Face Powder: Shades: White, Naturelle, Brunette (Rachel No. 1), and Dark Brunette (Rachel No. 2).
Compact Rouge: Shades: Carmeen, Orange, Geranium, Nasturtium, Medium, Radiant Red, Petal Pink and Stage.
Lipstick: Push-up type. Shades: Carmeen, Orange, Crimson, Cherry and Rose.
Cucumber Cleansing Lotion
Dusting Powder
Talcum Powder
Brilliantine
Perfume and Toilet Water
Gemey make-up came in a greater range of shades than was available in the Du Barry line at the time. The meagre skin-care line would be later extended and Gemey would go on to develop a good following in France and elsewhere. In places like Australia it was generally sold as a more expensive range alongside the cheaper Three flowers line.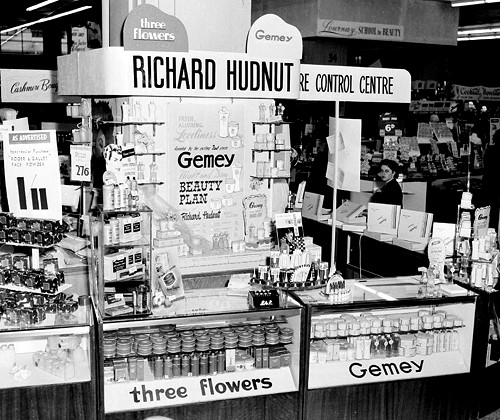 Marvelous
Marvelous perfume (1908) was not, as far as I can tell, used to scent a powder in Richard Hudnut's time and the Marvelous name back then was more closely associated with Hudnut's Marvelous Cold Cream.
When it debuted in 1932, the creams in the range were packaged in white glass jars with a silver finish metal top with silver labels marked with black lettering and a narrow scarlet border at the bottom displaying the word Marvelous. Other Art Deco inspired features included a stylised kneeling woman used as an emblem. These elements were repeated on other packaging giving the whole line a very modern feel.
The early Marvelous product list included:
Cold Cream: "It's a cleansing cream, a soothing cream, an all round satisfying cream, for general, everyday use."
Liquefying Cream: "[L]ight in texture, silky to your touch, soothing and kind to your skin."
Skin Freshener: "[T]hat pleasant paradox, a soothing astringent, stimulating and refreshing, soothing to the most delicate skin."
Tissue Cream: "[R]ich and luscious—a cream that does wonders for heat-fried and wind chapped faces, that relaxes taut tissues, improves necks."
Foundation Cream: "Soft fragrant smooth—protects your skin, holds powder tenaciously, ends nose an cheekbone shine."
Hand Cream: "To smooth, soften, whiten your hands, to ward off cracks, control cuticle, keep your fingertips free from grime."
Face Powder: Shades: White, Naturelle, Brunette (Rachel No. 1), and Dark Brunette (Rachel No. 2).
Compact Face Powder: Shades: Natural, Peach, Rachel and Tan Rachel.
Cream Rouge: Shades: Carmeen, Crimson, Cherry, Nasturtium, Perpétuel (Indelible) and Rose. Compact Rouge: Shades: Carmeen, Orange, Geranium, Nasturtium, Medium, Radiant Red, Petal Pink and Stage.
Lip Stick: Push-up type. Shades: Carmeen, Orange, Crimson, Cherry and Rose.
Lash Cosmetic: Shades: Black, Blue and Brown.
Eye Shadow: Shades: Blue, Brown, Gray, Green and Violet.
Mascara: Shades: Black, Blue, Brown.
Nail Enamel and Remover: in combination.
Dusting Powder
Cold Cream soap
There were similarities between the Marvelous and the Gemey lines, most clearly evident in the shade ranges, which were identical, and in the compact and lipstick cases which seem to use the same moulds. Like the Gemey line, the emphasis was on make-up but the Marvelous range had more skin-care cosmetics namely Liquefying Cream, Skin Freshener, Tissue Cream and Foundation Cream.
As it was priced below Du Barry and Gemey, the line may have been developed in response to the deteriorating economic circumstances of the 1930s to appeal to customers with a limited budget. Significantly, there was no attempt to include a perfume or toilet water with this cheaper line and the metal lipstick and compact cases were made in a silver finish rather than the gold used with Gemey.
The Marvelous line seems to have been limited to the United States although a range, simply called Richard Hudnut, introduced into Britain in the 1930s, was a near clone. The British version of Marvelous was sold in black containers with a prominent red stripe, with compacts and lipsticks in a silver finish the same as with the American Marvelous line.
Although the shades in the make-up range were initially geared to skin types, from around 1936 the British Richard Hudnut line and the American Marvelous line were promoted as Eye-Matched Make-up, with eye colour advertised as being the key to a person's 'Personality Colour'.
YOUR PERSONALITY COLOUR
This key to your type shows why, in dress, you have always instinctively chosen colours becoming to your Eyes; as with Dressing—so with Makeup: Here is the sure guide. Now Richard Hudnut have created Eye-Matched Makeup . . . Face Powder—Rouge—Lipstick—Eye Shadow and Mascara in shades that blend . . . keyed in turn to Brown, Blue, Hazel and Grey Eyes — shades correct together for you.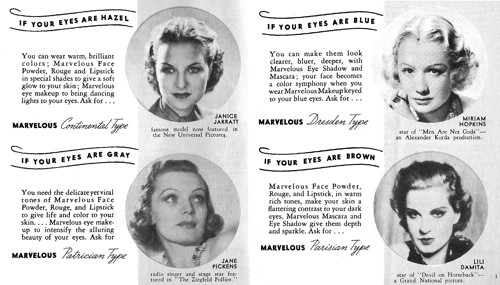 Also see the company booklet: New loveliness for you
There are some similarities between this approach and the 'Find Yourself' promotion used by the Armand company back in 1929 that also linked colouring with personality.
See also: Armand Company
Du Barry
Du Barry (1902) was a premium perfume created by Richard Hudnut that he used to scent one of his more expensive face powders along with a few other items. Some skin creams, such as Contour Cream and Foundation Cream, were added to the range in the early 1920s but it was not until 1929 that the line was developed as Richard Hudnut's premier cosmetic range in the United States.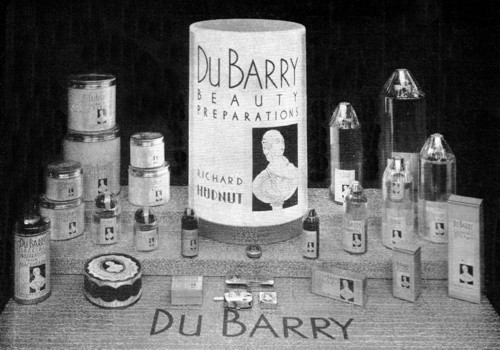 Products available in the early 1930s included:
Special Cleansing Cream: "Frees skin of dust an imperfections."
Skin Tonic and Freshener: "A mild astringent which dissolves all traces of cleansing cream."
Tissue Cream: "For normal or oily skins. Has special softening qualities."
Special Skin Food: "Lubricates dry skin."
Special Astringent: "Subdues oiliness of the skin."
Muscle Oil: "Slightly astringent. Stimulates the tissues."
Eye Lotion: "Refreshes and soothes the eyes."
Pore Cream: "Refines enlarged pores."
Special Preparation for Blackheads: "Makes a paste mixed with a little water."
Beauty Lotion: "An effective astringent lotion. also an excellent powder base."
Hand Beauty Cream: "A softening whitening cream."
Foundation Cream: "A finishing protective powder base." Shades: White and Flesh.
Face Powder: "A fine texture powder in skin tones."
Cream Rouge: Shades: Carmeen, Crimson, Cherry and Perpétuel (Indelible).
Liquid Rouge: Shades: Light and Dark.
Like the Marvelous line, the Du Barry line was largely restricted to the United States. The reason for this may have been due to a trademark conflict with the DuBarry Perfume Company, an English firm established in 1916 that William Warner & Co. Ltd. of England eventually acquired in 1963. There may have been plans to extend the Hudnut Du Barry line into the United Kingdom after that but as far as I know this did not take place.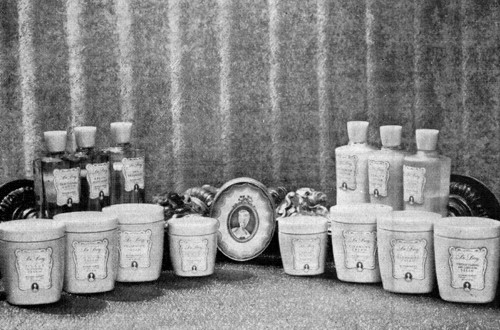 Although not sold in the United Kingdom or the British Commonwealth here is some evidence that Hudnut's Du Barry cosmetics were on sale in France before the Second World War. It does not appear to have been as successful there as the Gemey line and after the war, when operations were started up again in Paris, the company seems to have concentrated its efforts on Gemey and the Chen Yu brand it had acquired in 1949.
Skin-care
The initial range of skin-care cosmetics in the Du Barry line was rather limited, consisting of a single cleanser, two skin foods, two skin tonics/astringents and a muscle oil. There was a limited recognition of skin types – oily and dry – which showed few differences in their treatment plans and special treatment preparations seem to have been limited to a Pore Cream, an Eye Lotion and a Special Preparation for Blackheads.
Smoothing Out Facial Lines
Dry Type of Skin:
1. Basic Cleansing.
2. Special Skin Food (apply to areas of the face showing lines).
3. Muscle Oil (dip Cushion Fingertips in oil and follow directions for smoothing out lines).
Oily Type of Skin:
1. Basic Cleansing.
2. Tissue Cream (apply to lines).
3. Muscle Oil (dip Cushion Fingertips in oil and follow directions for smoothing out lines).
4. Special Astringent (apply as final step when massage mixture is removed).
Chin and Neck Treatments
Dry Type of Skin:
1. Basic Cleansing.
2. Special Skin Food (on chin and neck).
3. Special Astringent (to be applied when the cream is absorbed).
4. Muscle Oil (to be used smoothing lines from neck and throat).
Oily Type of Skin:
1. Basic Cleansing.
2. Tissue Cream (apply to chin and neck).
3. Special Astringent (to be applied when the cream is absorbed).
4. Muscle Oil (to be used smoothing lines from neck and throat).
See also: Skin Tonics, Astringents and Toners, Skin Foods and Muscle Oils
Du Barry Hand Principle
As with other beauty treatments of the time, physical manipulation in the form of massage and strapping formed an important part of a Du Barry facial treatment. Rather than using a mechanical aid like a vibratory massager or patter, the Du Barry line pinned its hopes on a massage routine it advertised as the Du Barry Hand Principle.
Supposedly developed by Doris Hale, the routines – which were nothing out of the ordinary – were combined with Du Barry cosmetics to cleanse and tone the skin, treat enlarged pores and blackheads, reduce lines and wrinkles, and lift sagging contours. As yet I have not found any evidence that Doris Hale actually existed; like Madame Jeanette of Pompeian or Jeanne Armand of Armand she may have been a creation of the marketing department.
If you follow the simple rules of the hand principle, your skin will not grow old before its time. Pore enlargement, lines, dropping contours, rough texture and loss of color can be corrected by this natural skin beautifying method.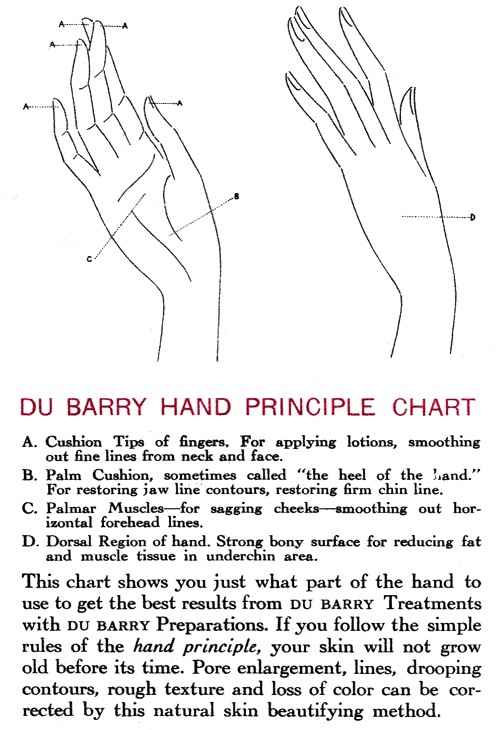 Additional products were added to the line during the 1930s including: Du Barry Stimulating Cream (1936), Du Barry Derma-Sec Formula (1936) for dry skin, Du Barry Eye Cream (1936), Du Barry Rose Cream Mask (1936) and Du Barry Special Cleansing Cream for Dry Skin (1938). These helped flesh out the line but total sales remained disappointingly low until the Du Barry Success Course was introduced in 1940. This led to a four-fold increase in sales of Du Barry cosmetics and became an important focus for the company during the war and immediate postwar period.
See also: Du Barry Success Course
Make-up
Du Barry make-up in 1931 included both a liquid and cream foundation, face powders, rouge (cream, liquid and compact), lipstick, eyeshadow, eyebrow pencil and mascara. Although the shade range of each was limited, the company did provide suggestions for shade selection based on skin and hair colouring for powder, rouge and lipstick, or on eye colouring for eyeshadow and mascara (Lash Beauty) using a more complicated colour matching system than that provided for the Marvelous range.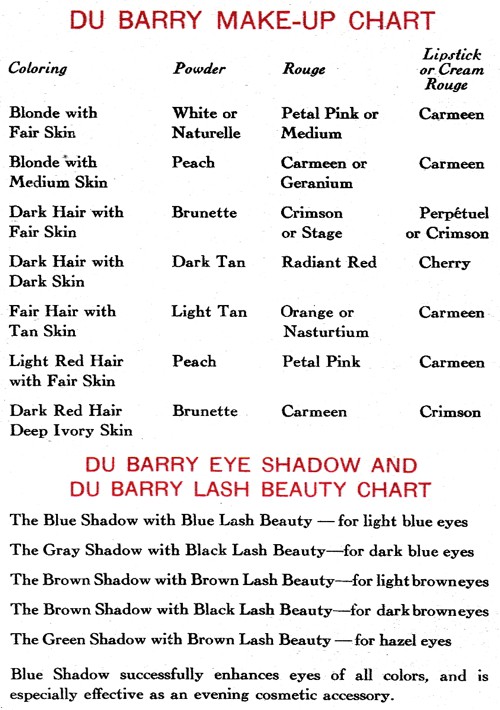 Some allowance was also made for the sun-tanned skins that became fashionable in the 1920s with Light Tan and Dark Tan shades of Du Barry Powder Lotion and Du Barry Face Powder included in the range.
Although the make-up range did not alter very much during the 1930s the Du Barry colour range did show a marginal improvement with the introduction of new shades.
Salon
Although the shop at 20 Rue de la Paix, Paris was described as a salon I have no evidence that it was ever anything more than a showroom. During the 1920s it was managed by Charles Adrian Pennock [1892-1985] who later became the president of Hudnut Sales Co.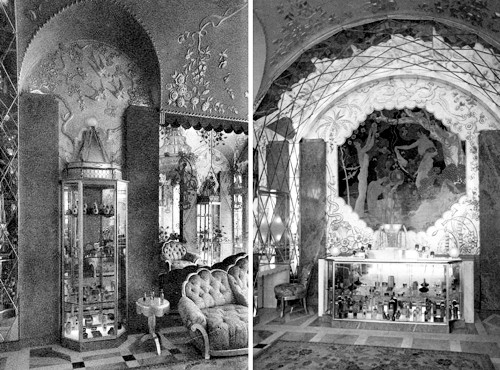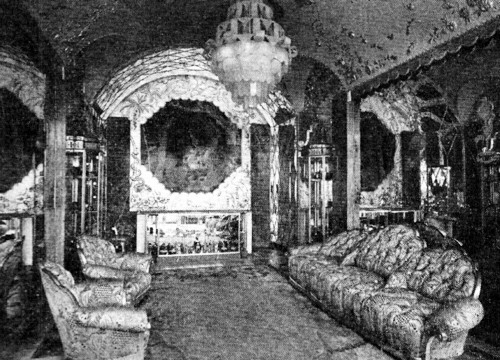 The building at 693 Fifth Avenue, New York, which opened in 1931, did have a beauty salon. It appears to be the only one owned and operated by the company at the time. Although there were other beauty salons scattered throughout the United States that used Du Barry products, I have the impression that these were not very numerous.
Originally known as the Richard Hudnut Salon, the Fifth Avenue salon was often referred to as the Richard Hudnut Du Barry Salon after 1936. As described in 1935, the salon and shop extended over three floors. The 1st floor was made up of a showroom where Richard Hudnut perfumes and Du Barry beauty preparations were available for sale.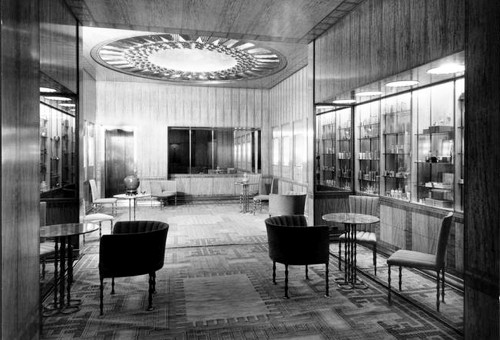 The 2nd floor contained a reception area leading into treatment rooms for facials, manicures and pedicures but also contained a Salon de Coiffure in the charge of Ferdinand who specialised in partial permanent waves.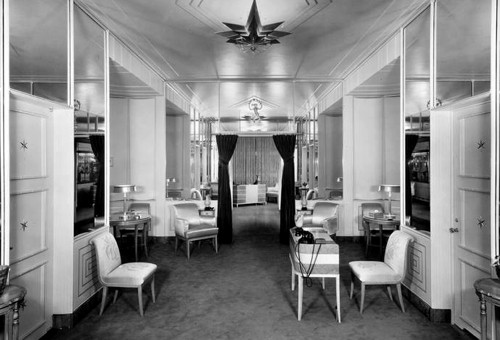 The 3rd floor held a Slenderizing Department where excess pounds were exercised away on a Beauty Board, washed away in Du Barry Beauty Baths and/or massaged away by a masseuse. In addition, a Sports Roof was set up on the top of the building so women could take part in badminton, checker tennis, rope skipping, handball, punching bags and medicine ball throwing, or practice their golf strokes.
By 1935 the salon was under the directorship of Ann Delafield who had come over to Richard Hudnut from Elizabeth Arden. It was Ann Delafield who probably introduced the Beauty Boards used in the Slenderizing Department and the Right Angle or Beauty Angle face treatments that reclined the client at a slight angle so that blood flowed to the face. The idea behind tilting the client in this way was that it would increase blood flow to the face and neck without the need for slapping or patting, thereby improving sagging contours, the appearance of lines, and sallowness.
The Right Angle Face Treatment alone should be enough to make any woman an habituée of the Richard Hudnut Salon.
To say that it is different is to put it mildly. for this face treatment is absolutely revolutionary, from the minute you relax in the special scientific Chair, to the time you are pronounced "finished." It is different in that your spine and nerve centers are massaged until every vertebra is relaxed and all tension is relieved. It is different in that you are inclined in this astounding Chair so that your feet are slightly higher than your head and the blood can flow naturally to your face.
When your face is thus in repose, in its youngest, most line-free state (you're given a mirror to prove this), the "tie-up" best suited to your skin is applied. It is that angle of incline that is the secret of the effectiveness of this treatment. Hence its name!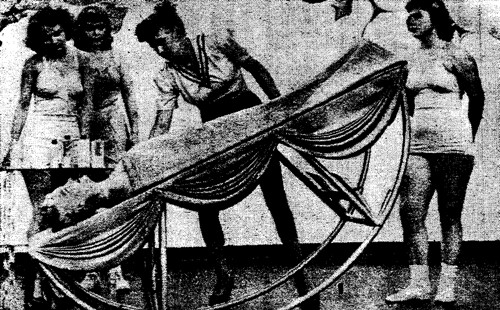 In 1936, the emphasis on improving circulation was increased with the addition of Du Barry Stimulating Cream which "activated the circulation so that the skin can more easily throw off impurities".
See also: Circulation Creams
Apart from the Right Angle Face Treatment there seems little else offered by the Richard Hudnut salon in the way of beauty treatments that would distinguish it from other salons of its time.
The salon operated until 1955 when the company replaced it with a new showroom on the corner of Fifth Avenue and 60th Street, New York that opened in 1956.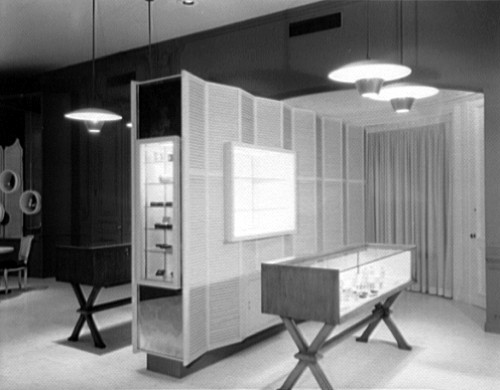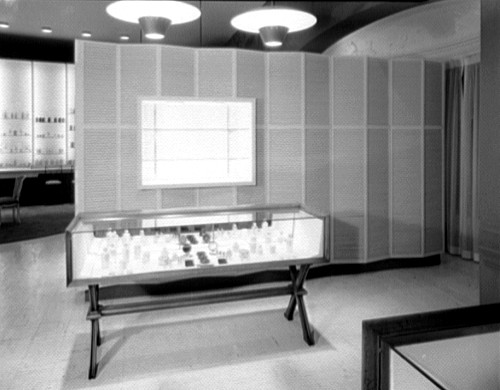 Warner-Hudnut
In 1950, Elmer Bobst combined William R. Warner & Company and Richard Hudnut into a new corporation, Warner-Hudnut, Inc., and realigned its component parts into four separate divisions: William R. Warner, pharmaceuticals; Richard Hudnut, cosmetics; Standard Laboratories, proprietary medicines and toiletries; and the Foreign Division which handled the products of the other divisions in 18 foreign countries. Stock in the company was then offered for sale.
The 1950 prospectus, released before the sale of the stock, indicated that although cosmetics accounted for most of the company's sales, they were barely turning a profit and of those lines, it was hair-care, not skin-care or make-up, that was generating the most volumes (Drug & Cosmetic Industry, 1951).
Additives
When the Success Course closed in 1952 – after running for over a decade – Warner-Hudnut looked for other ways to promote the Du Barry line, improve sales volumes and increase margins. The 'Miracle Drug' craze of the 1950s was the perfect setting for Richard Hudnut to introduce a number of skin-care lines containing quasi-scientific additives.
Two additives added to many cosmetics in the 1930s were hormones and vitamins. However, Richard Hudnut did not included them in its skin-care lines until after the Second World War. Du Barry Liquid Treasure was introduced in 1945 and Crème Superb in 1950; both contained vitamins A, D & E. The company also engaged in a limited experiment with hormones when it released Du Barry Penetrating Balm containing hormones, vitamins and lanolin in 1953.
Elmer Bobst had put a top chemist in charge of Warner's cosmetics research in 1945 to take charge of the 'cosmetic cooks' as he put it, so these products were the presumably a direct result of this placement.
Du Barry Liquid Treasure: "Non-greasy blend of light emollients plus Vitamins A, D, and E. A moisture balm, it supplied and retails essential moisture in the skin."
Du Barry Crème Superb: "Contains Vitamins A, D, and E, plus smoothing emollients and tocopherol (a special ingredient that tones and revives the skin's dewy radiance).
Du Barry Penetrating Balm: "This fabulous beauty treatment is a magical blend and balance of vitamins, hormones and lanolin that works wonders under, through and on the skin to give it the moist, full look of youth."
See also: Hormone Creams, Oils and Serums and Vitamin Creams
Then, in 1955, starting with Du Barry Royal Treatment Cream, a Royal Treatment line was developed made up of a liquid face lotion (Royal Nectar), a hand and body lotion (Royal Balm), make-up (Royal Velvet Liquid Make-up and Royal Lipstick) and hair preparations (Royal Shampoo, Royal Creme Rinse, and Royal Hair Conditioner) all of which contained the additive royal jelly.
Du Barry Royal Treatment Cream: "Now, her precious beauty secret is yours in this luxurious queen of creams…to soften and make supple dry or mature skin…to prevent and smooth away fine surface lines."
This was followed by a range containing placental extract, beginning with Du Barry Elixir Natale and Du Barry Creme Natale in 1958 and with products containing enzymes such as Du Barry Penetrating Cleanser also released in 1958. A fourth group of biological compounds, alginates made from seaweed, also found their way into Du Barry cosmetics beginning with a hand cream released in 1960.
George J. Abrams, who left Revlon to join Warner-Hudnut in 1959, spoke enthusiastically about these quasi-scientific cosmetics, branding them as 'charmaceuticals's in 1960 (Woodhead, 2003, p. 377). He continued to promotion them through the establishment of the Paradox line starting in 1960 with Du Barry Crème Paradox, a beauty-sleep cream with N.O.R. (Natural Oil Replacement). Containing polyunsaturated oils, Placentine (a placental extract) and panthenol but not lanolin or hormones it was marketed as being a close match to the natural oils of the skin. By 1963, Paradox Creme Cleanser and Paradox Moisturising Lotion had been added to this luxury line and later this was followed by Paradox Milk Bath, Paradox Body Crème and Paradox After Bath Dusting Powder.
See also: Royal Jelly and Placental Creams and Serums
Another 'scientific' ingredient that found its way into Du Barry skin-care products around this time was 'Vibranol'. The identity of this trade-named ingredient is not known but considering the fact that it was used in Flatter-Glo liquid make-up to "hold beautifying moisture on the skin and retain precious moisture underneath" and also in the Du Barry Penetrating Cleanser to "dissolve and float away dirt and stale make-up in seconds" it is possible that it was an acetylated lanolin alcohol.
Skin-care
Many of the limitations of the pre-war Du Barry skin-care treatments were rectified by 1955. The range now included programs for normal, oily and dry skins – each of which included a morning and evening treatment regime – and there were also suggestions for dealing with a combination skin. A plan for teenage skin was outline; however, as it did not contain any medicated products, it used a routine that was similar to that described for oily skin.
Although a four-step process of cleansing, freshening, lubricating and toning was recommended as the basis for good skin-care, most of the proscribed treatments for each skin type used a three step routine; for example, the Du Barry beauty care for normal skin involved cleansing with Penetrating Cleanser or Special Cleansing Cream, freshening with Skin Freshener and then protecting with Foundation Lotion.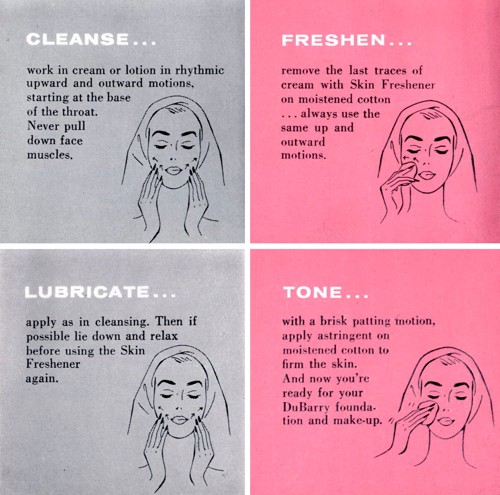 Also see the company booklet: Help Yourself to New Beauty by Du Barry
Make-up
The development of new forms of make-up that started with Max Factor's Pan-Cake in 1937, then continued with the introduction of new pressed powders as well as cream, stick and liquid foundations, required Richard Hudnut to update its make-up lines to keep pace with these new trends. By 1955, the Du Barry range included new types of foundations and face powders:
Foundation Lotion: "Ideal for the dry or normal skin to keep it soft and dewy. Use it as a protective base before powder or applying one of the DuBarry [sic] tinted foundations."
Sophisti-Cake: "The unique powder-cake that'sd non-drying. Day and night glamour for every type of skin. achieves a flawless mat-finish that camouflages little imperfections. Blends easily with moist cotton or sponge."
Sophisti-Creme: "A luxurious color cream-cake in a handy-to-carry case. smooths on like satin, covers tiny flaws, gives your skin a young radiance. Keeps powder clinging for hours. Requires no water."
Flatter-Glo: "The liquid mat-finish foundation that lends your skin a glamour-glow. Whisper light, it glides on quickly, easily, stays fresh for hours. Pores and tiny flaws seem to disappear."
Flatter-Face: "The powder-plus-foundation in one! Lovely, quick way to achieve a poreless, petal-smooth complexion …and it clings for hours."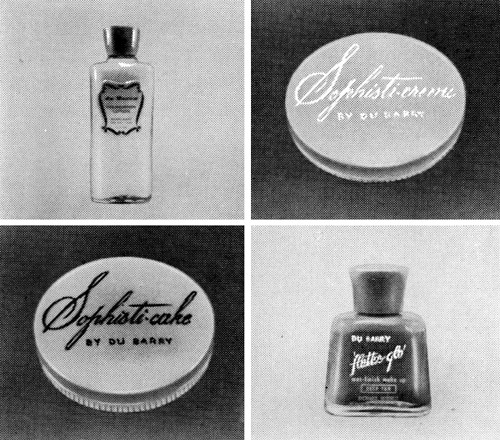 The 1950s was also the decade of the 'Lipstick Wars'. Richard Hudnut was not a major player in this competitive struggle but the company did provide Revlon with a bit of a scare when it released Lip Quick, the first roll-on lipstick, in 1959. Using a patent taken out by Joseph Pepin (US: 3,008,476) the roll-on lipstick quickly grabbed 25% of the lipstick market (Abrams, 1977, p. 138), if George Abrams is to be believed. Unfortunately, the lipstick mass within the cylinder soon gummed up the ball and the dispenser ceased to work. Abrams suggests that the problem was soon fixed but by then it was too late. It is also possible that most of the initial sales boost was due to the product's novelty factor and that most customers would have gone back to the standard form of lipstick in any case.
Chen Yu
Nail polish had become more important in the 1930s with the rise of Revlon, particularly after that company began to make matching coloured lipsticks in 1939. Although a liquid nail polish had been a part of Richard Hudnut's cosmetic lines for decades it was not a strong suit. Perhaps to fill this gap in 1949 Warner-Hudnut acquired Chen Yu, a company with an extensive colour range of lipsticks and nail polish. However, rather than incorporate Chen Yu into its other lines, the Warner-Hudnut followed its pre-war pattern and elected to turn Chen Yu into yet another skin-care and make-up line.
Cosmetics for men
Although some products had been developed by Richard Hudnut that could be used by men, and some were produced specifically for them, this was another company weakness that became more of a problem after many American men had gotten use to the need for good grooming during the Second World War.
As with Chen Yu, the Warner-Hudnut fixed the gap through acquisition, buying Courtley, Inc. in 1946, a company with one of the largest selling men's lines in the United States at the time. The Courtley range included colognes, shaving soaps, face lotions and talcs. A second men's line, Sportsman, was acquired when Warner-Hudnut bought Lambert Pharmacal and this led to the sale of the Courtley line to Lee Ltd. in 1955.
Duplication
The duplication that had existed for decades in skin-care and make-up continued after the war. A couple of examples will illustrate: Sophisti-Creme introduced into the Du Barry line in the United States in 1949, was a Chen Yu cosmetic in France and listed as a Richard Hudnut product in the United Kingdom; Cloudsilk, a Chen Yu cosmetic introduced in 1952 was also made part of the Du Barry line in 1958.
Some examples of duplication were more complicated. The American Du Barry Paradox line of Skin Cream, Creme Cleanser and Moisturising Lotion which was said to contain N.O.R. (Natural Oil Replacement) was also added to the French Gemey line in the form of Créme de Jour, Créme de Nuit and Démaquillant N.O.R. However as N.O.R. (Natural Oil Replacement) did not work in the French language it was advertised there as meaning Nourrit, Oxygène and Régénère.
Warner-Lambert
When the Wall Street financiers André Meyer and Ferdinand Eberstadt heard that the Pfeiffer family were planning to sell a block of their stock they organized a syndicate – American Drug Products Ltd. – and bought 44.5% of Warner-Hudnut in 1954. They then pressured the company to acquire other businesses so that the stock price would be pushed up (Smith, 2010, p. 70). Elmer Bobst probably did not need much convincing given that he had already purchased New Jersey Chilcott Laboratories in 1952. In 1955, Warner-Hudnut acquired Lambert Pharmacal – the makers of Listerine – resulting in formation of the Warner-Lambert Pharmaceutical Company.
Decline
Warner-Lambert's interest in its skin-care and make-up lines came under increasing pressure from two sources within the company. The first was hair-care products. These had already been Warner-Hudnut's biggest selling cosmetic lines in 1950 and during the next two decades their relative importance vis-à-vis other cosmetics only increased. Although many were sold under the Du Barry banner in the United States, elsewhere the company seems to have learnt its lesson and simple sold them as products by Richard Hudnut. The lines were advertise extensively in print as well as on radio and television and included shampoos, conditioners, home permanents and hair colouring kits.
The second source of pressure came from pharmaceuticals. Throughout the 1960s and 1970s Warner-Lambert continued to make company acquisitions, all of which, with the exception of Eversharp in 1970, were in medical, dental, optical or pharmaceutically related businesses. In 1950, cosmetics had made up 68% of Warner-Hudnut but by 1974 this had fallen to 21% while pharmaceutical, dental and optical products and services now made up 56% of of Warner-Lambert sales.
The problem of duplication across diverse product lines, poor marketing and the lack of product innovation continued to hamper developments in the company's cosmetic lines. In the 1960s Warner-Lambert endeavoured to resurrect the Du Barry line by streamlining its products and introducing new make-up and skin-care lines but by 1970 when Warner-Lambert merged with Parke, Davis & Company, it had became clear that maintaining the line would require considerable sums of money it was not prepared to spend. A decision seems to have been made around this time to allow Du Barry to die if a buyer for it could not be found (Drugs & Cosmetic Industry, 1974).
Remnants
Gemey would become a part of L'Oreal in 1973 and have Ricils added to it in 1976. L'Oreal then merged Gemey with other businesses it owned including Diparco in 1977 and Maybelline in 1998. Chen Yu is currently owned by Eugene Perma España S.A. based in Barcelona, Spain. Both lines are still in production in Europe. A remnant of Three Flowers also still exists in the form of Tres Flores, a small men's line consisting of a liquid and solid brilliantine and an after-shave sold primarily to Hispanic communities in the Americas by American International Industries, Inc. The Du Barry line was sold to Dermatological Products of Texas, Inc., and then on to Carme Cosmeceutical Sciences, Inc. (1989). Carme was bought by Senetek PLC in 1995 and they licensed it to the United States International Trading Corporation (USITC) in 1997 who restarted the line as DuBarry in 2002.
Timeline
1880
Richard Hudnut begins selling perfumes from Hudnut's Pharmacy owned by this father, Alexander Hudnut.
1889
Richard Hudnut Pharmacy Company established at 925 Broadway, New York.
1896
New Products: Violet Sec perfume.
1898
New Products: Yanky Clover perfume.
1902
New Products: Du Barry perfume.
1903
New Products: Nailustre, a nail polish.
1905
Manufacturing facilities and offices built at 115-117 East 29th Street.
1909
Richard Hudnut Pharmacy Company incorporates.
1911
Richard Hudnut leases two floors in the Bush Terminal Company Building on East 29th Street.
1912
Richard Hudnut opens a branch office at 22 Rue Augustine, Paris.
1914
Furniture, fittings and stock of the Richard Hudnut Pharmacy at 925 Broadway sold.
Widespread advertising of Richard Hudnut toilet specialities begins.
1915
New Products: Three Flowers perfume.
1916
William R. Warner & Co. acquires the Richard Hudnut Pharmacy Company and the J. A. Pozzoni Pharmacal Company.
Perfume Shop opens at 400 Fifth Avenue, New York.
Richard Hudnut retires.
1917
William R. Warner & Co. moves to new quarters at 113-127 West 18th Street, New York, formerly known as the Altman Stores.
1920
William R. Warner & Co. reincorporates in Delaware.
Building at 115-117 East 29th Street sold.
1921
New store opens at 392 Fifth Avenue, New York.
1922
New twin compact box patented by Ralph Wilson released.
1924
New Products: Gemey perfume; and Deauville line.
1925
Factory and laboratory established at Surenes, Paris.
1927
Shop opens at 20 Rue de la Paix, Paris.
New Products: Le Début perfumes.
1928
Du Barry line packaging modernised.
1929
New Products: Poudre Le Début.
1931
New salon and shop opens at 693 Fifth Avenue, New York.
Gemey line introduced into the United States.
1932
New Products: Marvelous line; and Twist-up lipstick case.
1936
Marvelous 'Eye-Matched Make-up' campaign begins.
New Products: Du Barry Stimulating Cream; Du Barry Rose Cream Mask; Derma-Sec Formula for Dry Skin; and Du Barry Eye Cream.
1938
New Products: Du Barry Cleansing Cream for Dry Skin.
1939
Richard Hudnut Success School starts.
New Products: Du Barry Make-up Base.
1940
Du Barry Success Course starts.
1943
New Products: Du Barry Beauty Cake make-up.
1946
Courtley, Inc. acquired.
1947
New Products: Du Barry Sophisti-Cake cake make-up.
1948
Chen Yu, Inc. purchased.
New Products: Richard Hudnut Home Permanent Wave.
1949
Du Barry line repackaged.
Chen Yu bottle restyled.
New Products: Du Barry Sophisti-Cream cream make-up.
1950
Warner-Hudnut, Inc. formed.
New Products: Du Barry Cream Superbe; and Richard Hudnut Formula A-10 anti-dandruff tonic.
1951
Warner-Hudnut stock sold.
New Products: Richard Hudnut Tru-Tint home hair colour.
1952
Maltine Manufacturing Company bought including Chilcott Laboratories Ltd.
New Products: Du Barry Flatter Face compressed powder; and Chen Yu Cloudsilk make-up and face powder.
1953
New Products: Du Barry Flatter-Glo matt finish make-up; Richard Hudnut Drystick cream deodorant and antiperspirant; and Richard Hudnut Spray and Stay.
1954
Pfeiffer family sells Warner-Hudnut stock to American Drug Products Ltd.
New Products: Du Barry Liquid Treasure with vitamins A, D & E; Richard Hudnut Pink Suds skin cleanser for teenagers; Du Barry Penetrating Balm with hormones, vitamins and lanolin; and Gemey Teint Clair Fluide foundation.
1955
Warner-Hudnut merges with Lambert Pharmacal to form the Warner-Lambert Pharmaceutical Company.
Warner-Lambert sells the Courtley line to Lee Ltd.
Salon at 693 Fifth Avenue closed.
New Products: Du Barry Royal Treatment Cream; and Du Barry Liquid Bloom complexion tint.
1956
New showroom opens on the corner of Fifth Avenue and 60th Street, New York.
New Products: Du Barry Lotion Superbe hand cream; and Du Barry Paradox line.
1957
New Products: Du Barry Creme Mascara.
1958
New Products: Du Barry Elixir Natale and Creme Natale containing placental extract; Du Barry Cloudsilk Pearled Face Powder debuts; Du Barry Royal Lipstick, Royal Shampoo, Royal Creme Rinse, and Royal Hair Conditioner containing royal jelly; and Du Barry Penetrating Cleanser with enzymes.
1959
New Products: Richard Hudnut Lip Quick ball-point, roll-on lipstick.
1960
New Products: Du Barry Creme Paradox skin cream.
1962
New Products: Du Barry Flatter Magic powder-plus-foundation.
1963
William Warner & Co. Ltd. of England buys The DuBarry Perfumery Co. Ltd. of Hove, Sussex, England.
1964
New Products: Glissando Lipstick.
1966
New Products: Glissando Nail Enamel; and Du Barry Bloom Dust-on cake powder.
1967
New Products: Du Barry Shadow Dusters brush-on powdered eye shadow; and Du Barry Pearl Glace Lip Lilies pearlescent lipstick overglazes.
1970
Warner-Lambert acquires the wet-shave business of Eversharp-Schick.

2000
Warner-Lambert acquired by Pfizer, Inc.
Updated: 28th September 2017
Sources
Abrams, G. J. (1977). That man. The story of Charles Revson. New York: Manor Books.
Corporations: Life begins at 60. (1952). TIME. February 11. Retrieved February 5, 2015, from http://www.time.com/time/
magazine/article/0,9171,815988,00.html
Galloway, L., Harmon G. H., & Butler, S.R. (1911). Advertising, selling and credits. New York: Alexander Hamilton Institute.
Harrison, M. C. (1902). New York State's prominent and progressive men. New York: The Tribune Association.
Klein, H. G. (1974). A DCI company profile Warner-Lambert. Drugs & Cosmetics Industry, May, 46-48, 125-128.
Richard Hudnut. (1910). Beauty book containing some account of marvelous cold cream with hints on proper massage (11th ed.) [Booklet]. New York: Author.
Richard Hudnut. (1915). Beauty book containing some account of marvelous cold cream and other complexion specialities [Booklet]. New York: Author.
Richard Hudnut. (1927). The way to lovely skin [Booklet]. New York: Author.
Richard Hudnut. (1930). Home method of Du Barry beauty treatments by the new hand principle as interpreted by Doris Hale [Booklet]. U.S.A.: Author.
Richard Hudnut. (1955). Help yourself to new beauty with Du Barry [Booklet]. New York: Author.
Smith, R. C. (2010). Paper fortunes: Modern Wall Street; where it's been and where it's going. New York: St Martin's Press.
Wessels, W. L. (1961). Adirondack profiles. Lake George, N.Y.: Adriondack Resorts Press.
Woodhead, L. (2003). War paint: Miss Elizabeth Arden and Madame Helena Rubinstein. Their lives, their times, their rivalry. London: Virago.